Tuesday's Ubben Lecturer, Charles Fishman, Gives Washington Post a First-Hand Look at the 'Wal-Mart Effect'
April 15, 2006
Also: Charles Fishman Discusses 'The Wal-Mart Effect' April 18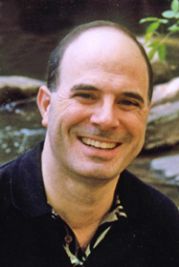 April 15, 2006, Greencastle, Ind. - "It's just a big old sack of dog food, for crying out loud, but Charles Fishman can hardly restrain himself: 'Fifty pounds for $13.82! That's amazing!' the author of The Wal-Mart Effect bursts out. 'That's less than 30 cents a pound!'" Fishman, who will present The Timothy and Sharon Ubben Lecture at DePauw University Tuesday night, is the subject of a lengthy piece in the Washington Post. Headlined, "Cart Blanche?: The Megamarket's Savings Don't Come Cheap," the story includes a color photo of the author outside a Wal-Mart Supercenter in Maryland.
"You'd think the guy would be a bit jaded by now," writes the Post's Bob Thompson. "Fishman has schlepped through more than a hundred Wal-Marts in 23 states, trying to chart the nearly unfathomable influence of the retail behemoth Americans have learned to love, hate or take for granted. But he's never been to the one in Hagerstown, through which we're piloting a shopping cart on a weekday afternoon -- and he's calling out bargains like a hyperactive carnival barker. '$3.88 for a rake! How much cheaper could the rake actually be before it was free ? You know what I mean?'"
Thompson writes, "We think we know all about Wal-Mart. But we don't... However you choose to judge the company, (Fishman) argues, Wal-Mart is a retail planet with a gravitational pull so strong it shapes our economic universe in ways we can barely comprehend. What happens when a single enterprise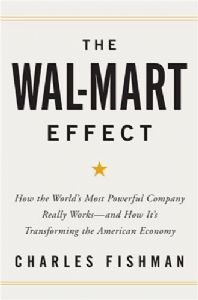 gets so huge it has no real rivals? Wal-Mart, Fishman points out, 'is as big as Home Depot, Kroger, Target, Costco, Sears and Kmart combined.' What happens when it can dictate how and where the companies with which it deals do business? Wal-Mart has become a prime mover in economic globalization, 'accelerating the loss of American jobs to low-wage countries' in the name of keeping its prices down. The Wal-Mart Effect, which has drawn favorable reviews and made several business bestseller lists, is an attempt to show just how pervasive Wal-Mart's influence really is."
Access the complete article at the Post's Web site (a free registration may be required). Another story, in the Arkansas Democrat Gazette, calls The Wal-Mart Effect "a detailed and objective exploration of the company."
Charles Fishman's DePauw speech, at 7:30 p.m. Tuesday evening, is free and open to the public. Learn more by clicking here.
Back