Prof. John Dittmer Featured in History Channel Analysis of 'Freedom Summer'
April 17, 2006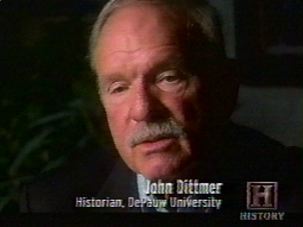 April 17, 2006, Greencastle, Ind. - John Dittmer, professor emeritus of history at DePauw University, is among the experts featured in the documentary 10 Days That Unexpectedly Changed America: Freedom Summer. The hour-long program is airing this month on television's History Channel. Dr. Dittmer is a nationally recognized authority on the civil rights movement and authored the book, Local People: The Struggle for Civil Rights in Mississippi, which received the prestigious Herbert G. Gutman Award, the Lillian Smith Book Award, the McLemore Prize from the Mississippi Historical Society and the Bancroft Prize.
A brief synopsis of the documentary at the History Channel's Web site states: "In 1964, national attention turned to Mississippi when three Civil Rights workers (two white and one black) were murdered by the Ku Klux Klan. This watershed moment eventually led to the passage of the 1965 Voting Rights Act."
The program airs again Saturday, April 22 at 9 a.m. ET/PT and is also available on DVD. For more information, click here.
Professor Dittmer is among those calling on Mississippi Governor Haley Barbour to posthumously pardon a decorated black Korean War veteran. Clyde Kennard, who was the first African-American to apply for admission to the University of Southern Mississippi, was arrested and jailed 45 years ago. Read more in this previous story.
Source: History Channel
Back