Enjoy Sunday Concert by DePauw Band, Which is Preparing to Record Sixth CD
April 18, 2006
April 18, 2006, Greencastle, Ind. - The DePauw University Band and director Craig Paré will present a Sunday afternoon concert on April 23 at 3 p.m. in Kresge Auditorium. Free and open to the public, the event will feature Professor Randy Salman as a clarinet soloist on Michael Daugherty's clarinet concerto, Brooklyn Bridge. Also included on the program will be Dan Welcher's Zion, Eric Whitacre's Lux Aurumque, and Frank Ticheli's Blue Shades.
Sunday's performance marks one of the final stages in the ensemble's preparation for the recording of their sixth compact disc. All of the University Band works on this program, as well as two pieces from their concert last month, will be recorded April 27-30.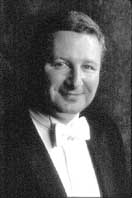 "The University Band is making music at such a high level this year, so I am very excited about recording with this ensemble," says Paré (seen at right). "We record every other year and its musical success is a direct result of the quality teaching that takes place as well as the dedication and commitment each University Band member brings to the ensemble."
The centerpiece of the Sunday concert and upcoming recording project will be the clarinet concerto Brooklyn Bridge by University of Michigan composer Michael Daugherty. Premiered in February 2005 at the College Band Directors National Association conference in New York City, the DePauw performance will be the first recording of the work.
"Randy Salman is superb as our soloist on this piece, raves Paré, "bringing the highest level of musicianship and artistry to our performance of Brooklyn Bridge."
The Sunday performance also features two DePauw student chamber ensembles: Horn Ensemble (Keely

Nearpass, Joshua Perez, Corinne Webb, and Ashley Amodeo), and Saxophone Quartet (Tyler Pawl, David Doud, Jennifer Hampton, and Gabriel Yonkler). The event also features four Putnam County high school students as members of the ensemble: Kaitlyn Kissel, Miles Salman, and Peter Edberg from Greencastle High School as well as Phoebe Pritchett from South Putnam High School.
Visit the DePauw University School of Music online by clicking here.
Learn more about the DePauw Band and the CD project in this previous story.
Back