Prof. Ken Bode Writes of Washington Leaks, FBI, and His Papers Housed at DePauw's Archives
April 21, 2006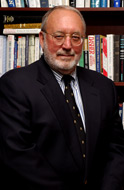 April 21, 2006, Greencastle, Ind. - "When two FBI agents show up on your porch flashing their badges, it gets your attention. That's what happened to my friend Mark Feldstein, a former investigative journalist, now professor at George Washington University," writes Ken Bode in today's
Indianapolis Star
. "Feldstein once was an intern for the legendary muckraking columnist Jack Anderson who died last year. Anderson's family is turning over his papers, all 188 boxes, to Feldstein's university and Feldstein himself is writing a biography of Anderson."
Bode, Eugene S. Pulliam Distinguished Visiting Professor of Journalism at DePauw University, says the FBI claims it has a right to seize Anderson's papers. "What they want to know is which government officials were leaking confidential information to Anderson over his 40-year career, and they are prepared to go through the documents to lift fingerprints and identify the leakers. Then, presumably, the leakers get prosecuted... For the FBI, the Anderson papers would be one-stop shopping. He believed in getting his information from the same sources as the president, so he made it his calling to talk to officials in government agencies all
over Washington. He worked mostly in the pre-fax machine days, when government documents were handed over in person, thus the possibilities of fingerprints."
The professor, a former network correspondent for NBC, CNN and PBS, notes that Anderson and former FBI Director J. Edgar Hoover had a running fued over classified information that wound up in Anderson's column.
"Many journalists turn over their papers to libraries and universities. Last year I gave mine to the DePauw University archives," Dr. Bode notes. "Over many years of reporting, I had countless government officials tell me for the record that they couldn't comment on 'an ongoing legal matter,' for example. That left me to find my way to back doors or sources who would speak only anonymously. Like many reporters, I was often handed documents with the understanding that I would forget where I got them. For instance, while reporting on a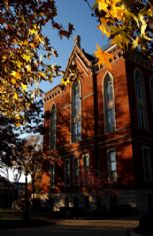 Justice Department investigation in Chicago, I got a phone call directing me to a particular desk drawer in an unoccupied office in the federal building where I found the confidential material I was looking for."
In conclusion, Bode writes, "When I turned over my papers to DePauw, I never thought to go through them and scrub out any documents from the Justice Department or other agencies that might be marked 'Secret' or 'Classified.' The only fingerprints are probably those of DePauw work-study students who catalogued my collection. But, who knows? Wesley Wilson, the DePauw archivist, is a soft-spoken, by-the-book fellow with great spine. He says that if the FBI wants to remove government documents from the Bode papers, they'd better have a court order. Wesley did not say, however, that he's prepared to go to jail."
Read the complete essay by clicking here.  Last Friday, Ken Bode's column in the Star dealt with the increasing tensions between the United States and Iran.  Learn more in this previous story. 
Back