Wallace J. Nichols '89 Elected President of International Sea Turtle Society
April 22, 2006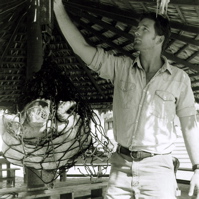 April 22, 2006, Greencastle, Ind. - "Wallace J. Nichols of Davenport, a researcher with the California Academy of Sciences, was elected president of the International Sea Turtle Society earlier this month at the group's annual conference in Crete, Greece," notes an article in the Santa Cruz Sentinel on the 1989 DePauw University graduate. "Each year, the society brings together the world's sea turtle experts to share research and conservation advances, as well as to set priorities and support students, Nichols said. His team plans to host next year's meeting in Mexico, where he has been doing research."
Access the item at the newspaper's Web site.
Dr. Nichols, a wildlife biologist and conservationist who goes by the name J., is the founder of Ocean Revolution, an international program designed to inspire and empower young people to protect our oceans. Learn more here.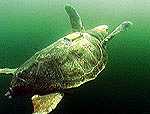 Nichols, who earned a degree in biological sciences from DePauw, was featured in an Apple Computer campaign in 2005. "J. spends much of his time in the remote, desert-meets-the-sea fishing villages of Mexico's Baja California peninsula collaborating with local people to encourage the practice of sustainable fishing," the company's promotional piece stated. "Like most scientists, he uses his computer for data crunching and communication, but he's also found it to be ideal for grassroots education."
Read more in this previous story.
Back