"A Great Thing" -- 2006 Putnam County Relay For Life -- Begins at Noon Saturday
April 28, 2006
Donate Online to 2006 Putnam County Relay For Life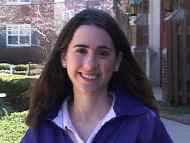 April 28, 2006, Greencastle, Ind. - "It really helps to remember that so many care," Tricia Cooksey, a 2004 graduate of DePauw University, tells the Banner-Graphic on the eve of 2006 Putnam County Relay For Life. The Greencastle newspaper profiles Cooksey, a former chair of the fundraiser, who lost mer mother to cancer. "Though they may not have personally known me, they supported me, and all of those people going through it."
The 24-hour event, which benefits the American Cancer Society, kicks off at noon Saturday at DePauw's Blackstock Stadium. The 2005 Putnam County Relay For Life raised a record-high $233,098, and ranked fifth in the nation for per capita fundraising (raising $6.47 per resident of Putnam County), up from the previous two years when it ranked sixth and ninth respectively. Last year's Relay brought together 160 teams and 1,387 registered walkers -- both all-time records for the nine-year-old fundraiser.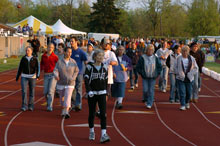 "As a sorority pledge class member, Cooksey became involved in Relay For Life her freshman year at DePauw," Sarah Lipps writes. "Excited about the organization and recognizing how other friends had been touched by cancer in their families, she became a committee member her sophomore year. 'It hadn't affected me or my family or friends,' she said. 'I just saw a great thing with bringing the community together at DePauw. I thought Relay and the ACS had a good mission.' During Cooksey's junior year at DePauw she was co-chair of the event. She became Relay For Life chair her senior term, in 2004. It was a week before the kickoff for her final undergraduate Relay that Cooksey received the news her mother had been diagnosed with colon cancer. Although she had always appreciated the spirit and purpose of Relay, it suddenly became very personally understood for her in that moment. 'It was then that I was very truly deeply affected by cancer,' she said."

Barbara Cooksey died shortly after last May's Relay at age 52.
Tricia Cooksey, the recipient of the 2004 Walker Cup, is pursuing a graduate degree at Indiana University and works as a graduate assistant in DePauw's Office of Student Affairs.
Read the complete article at the newspaper's Web site.
For more information on Relay For Life, access this previous story, or visit this page for event details and to make an online donation.
Back