2006 Putnam County Relay For Life Raises $215,000+ for Cancer Fight
April 30, 2006
Donate Online to 2006 Putnam County Relay For Life
April 30, 2006, Greencastle, Ind. - The weekend was a washout as far as the weather was concerned, but it didn't deter DePauw University students and their Putnam County neighbors from raising important funds in the fight against cancer. 2006 Putnam County Relay For Life concluded at noon today at DePauw's Blackstock Stadium -- with a heavier rain falling than the sprinkle that greeted the beginning of the event 24 hours before. Organizers say they've collected $215,083.62 for the American Cancer Society, shy of last year's record-high $233,098, but donations are still coming in and can be made online by clicking here.
"The wet and chilly weather that we've had for, literally, 24 hours straight definitely kept some people away from the track and, in turn, impacted our ability to raise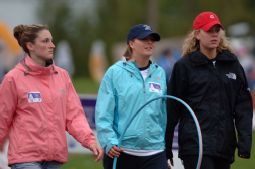 money," says Relay For Life co-chair and DePauw University senior Matt Ehinger. "I commend everyone for working as hard as they did despite the tough circumstances. To raise more than $215,000 in a community of our size is something to be very proud of."
The DePauw-led fundraiser for the American Cancer Society is consistently ranked as one of the top college Relay For Life events in the United States. The 2006 edition had a record-breaking number of participants (1,710 team members and countless more walkers) and teams(189, shattering the previous record of 161). Top sponsors were DePauw University, Sodexho, DePauw IFC and Panhel, Beta Theta Pi, and the Banner-Graphic.
A joint effort

between DePauw students, faculty and staff and the Putnam County community, the 2006 Relay had a baseball theme of "Take Me Out to the Relay." The 2005 Putnam County Relay For Life raised a record-high $233,098, and ranked fifth in the nation for per capita fundraising (raising $6.47 per resident of Putnam County). Last year's Relay brought together 160 teams and 1,387 registered walkers -- both all-time records for the nine-year-old fundraiser -- who raised crucial dollars to assist the fight against cancer. This year's event had approximately 170 teams pre-registered.
Putnam County Relay For Life has seen phenomenal growth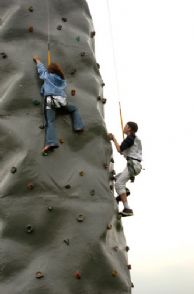 over the years.The fundraiser was first held in 1996 and raised nearly $15,000. The total grew to approximately $20,000 by 1998, $30,000 by 1999, and $42,000 in 2000. Then, 2001 brought in $80,000; followed by $127,000 in 2002; more than $162,000 in 2003; 2004's $208,735; and last spring's total of more than $230,000.
As rain fell Saturday morning minutes before the 2006 Relay started, Ehinger acknowleged the pressure to mount a tenth consecutive Record relay.

[Download Audio: "Reaching New Heights" - 263kb] "Yeah!," Ehinger exclaimed. "There's always this idea that we have to do it bigger and better every year. But it just happens naturally because teams get involved... and I think we have some of the smartest teams in the country because they come up with new (fundraising ideas) every year. The people actually running it don't have to do much 'cause the teams are so creative that they come up with it all themselves," the senior added. Among this year's fundraising features was a rock-climbing simulation (seen in photo at right).

[Download Audio: "Almost Unbelievable " - 189kb] "I can remember the first year," DePauw President Robert G. Bottoms recalls of the
1996 Putnam County Relay For Life and its then-impressive total of $30,000 raised for the fight against cancer. "It's almost unbelievable the way it's grown. This is probably the best event of the year to bring town and gown together," added the president, who threw out the "first ball" in the event's opening ceremonies Saturday morning..

[Download Audio: "Greencastle's Mayor" - 353kb] "This Relay For Life means so much to the community," says Greencastle Mayor Nancy Michael, who proclaimed Saturday and Sunday "Relay For Life Days" in the city. "The appreciation the community has for DePauw students for organizing this, coordinating it, putting everything on and really going out and raising a majority of the money is just awesome," she says. "And it's certainly something that gives back to every citizen that's affected by cancer (and) families. It's a great way to
unite this community, and I really appreciate the students for everything that they do and for the ability of all of us to come together for a great cause."
Ehinger, the fundraiser's co-chair, agrees.

[Download Audio: "A Joint Effort" - 207kb] "I think this is the one thing that both the community and the campus community can come together on and say 'This is our own together,'" he declares. "I think this is something the community and campus build upon the entire year to really make Greencastle and Putnam County a great place," the DePauw senior adds.
For a second consecutive year, Putnam County Relay For Life was named an "All-American Relay" in 2005.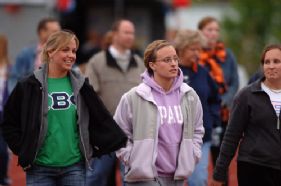 Putnam County's event also received an honorable mention in "Heart of Relay: Outstanding Engagement of Youth in a Community Event," and an "Online to a Cure Award 2005" for their its efforts to raise funds for the event over the Internet. The DePauw-hosted Relay is a two-time winner of the national "Heart of Relay" award.
To learn more about the event and make an online donation visit this page. You can get a flavor of what Relay For Life is all about in a video created by Chris Newton '85 of DePauw's Pulliam Center for Contemporary Media. Clips are accessible in this previous story.
Back