Education and Interaction at DePauw Will Be Enhanced by 2006 HP 'Technology for Teaching' Grant
May 9, 2006
May 9, 2006, Greencastle, Ind. - DePauw University is one of 40 two- and four-year colleges and universities nationwide that have been selected to receive the 2006 HP Technology for Teaching grant. The HP grants are designed to transform and improve learning in the classroom through innovative uses of technology.
During the 2006-07 academic year, grant projects through this program will impact more than 4,000 students. DePauw will receive an award package consisting of HP products and other project related support with a total value of more than $69,000.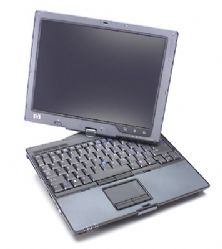 Each of the HP Technology for Teaching grant recipients will use HP wireless Tablet PC technology to enhance learning in engineering, math, science, computer science or business courses.
Much of the growth of Tablet PC technology in classrooms around the world can be traced to a small group of educators and researchers which includes Dave Berque, professor of computer science at DePauw. Dr. Berque's work on the Greencastle campus led to the development of pen-based technology that is now being used in classrooms around the country. The system, which is manufactured and marketed by DyKnow, recently received a United States patent, which lists Berque as the inventor.
"The combination of DyKnow software and the newest generation of Hewlett Packard Tablet PCs will give students to opportunity to do collaborative electronically facilitated group work in ways that have not previously been possible," says Berque. "Small groups of students will be able to collaboratively sketch freehand solutions to class exercises on shared sheets of electronic paper. The Tablet PC form factor will
make it easier for students to work naturally in groups, and the power of the machines will also allow the students to run software development environments."
The professor adds, "The equipment provided by the grant will also give DePauw students and faculty members experience with state of the art Tablet PCs. Schools with required laptop computer programs are increasingly selecting Tablet PCs instead of standard laptops. Through this project we will come to better understand the potential benefit of Tablet PCs over standard laptops. I believe this may inform the direction of our laptop initiative in years to come."
Joining Dr. Berque in implementing the project at DePauw will be Scott M. Thede, associate professor of computer science; Terri Bonebright, associate professor and chair of psychology;
and Carol Smith, associate chief information officer for instructional and learning services.
The 2006 HP Technology for Teaching grant program is awarding grants totaling more than $7 million to 130 kindergarten through 12th grade public schools and 40 two- and four-year colleges and universities in the United States and Puerto Rico. From 2004 to 2006, HP has committed $36 million in Technology for Teaching grants to more than 650 schools worldwide to support HP's broader education goal of transforming teaching and learning through the integration of technology.
"The HP Technology for Teaching initiative focuses on transforming teaching and learning through technology," says Bess Stephens, vice president, philanthropy and education, at HP. "By integrating mobile technology in meaningful ways into their classrooms, instructors can increase student achievement and interest and prepare them for greater success in the competitive global workforce."
More information about the 2006 HP Technology for Teaching program and grant recipients is available by clicking here.
DePauw is among the "Top 50 Most Unwired College Campuses," according to a survey of all institutions of higher learning -- big and small -- sponsored by Intel Corporation. DePauw is ranked #30 -- the highest of any liberal arts college in America -- in the report, which appeared in the October 17, 2005 edition of U.S. News & World Report. More than 1,000 campuses were included; only 50 made the final list. Survey findings are based on the percentage of campus that is covered by wireless technology, the number of undergraduate students and the computer to student ratio for each school.
Back