The DePauw Honored With 10 'Best in Indiana' Awards
May 2, 2006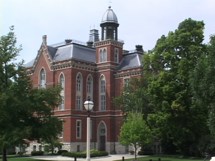 May 2, 2006, Greencastle, Ind. - Student journalists from The DePauw made an extremely strong showing in the Society of Professional Journalists' Best in Indiana contest. The DePauw University students were honored for ten winning entries, and nabbed six of the twelve first place awards in the student newspaper division (the runner-up, Indiana University's Daily Student, netted three first place awards). The winners were announced at the 27th Annual Awards Banquet at the Indianapolis Marriott North Hotel Friday night.
The awards honor work that was published in 2005, and DePauw's entries competed with those from other colleges, larger and smaller, around the state. SPJ (formerly known as Sigma Delta Chi) was founded on the DePauw campus in 1909.
The winning entries from The DePauw are:
Best Deadline News, First place: Ashley Baxstrom, "A Global Community"
Best Non-Deadline News, First Place: Austin Arceo, "Computer Science Department Works to Recruit, Retain Women"
Best Sports Story, First Place: Kanishka Bhattacharya, "The Running Man: All American Bids Farewell to DePauw"
Best Editorial Cartoon, First Place: Toby zur Loye, "DePauw Nature Park"
Best In-Depth or Series Reporting, First Place: Brandon Gee, "Is DePauw's Growth Good for Greencastle?"
Best Layout/Design Other Than Page One, First Place: Adam McClean, Meredith Barnett, Sarah Hughes, Kali Geldis, Sarah Schaefer and Sarah Prueschl, "Little 5"
Best Layout/Design Other Than Page One, Second Place: "Tie Breaker"
Best Feature, Second Place: Amber Peckham, "DePauw Inked"
Best Editorial Writing, Third Place: The DePauw editorial staff -- Rebeca Martinez, Ashley Baxstrom, Lindsay Morris, Kanishka Bhattacharya, Liesl Goecker and Brandon Gee; "Good Intentions Need Practical Implementations"
Best Informational Graphics, Third place: Andrew Hanson and Adam McClean, "Saturday Shut-out"
A complete listing of the winners can be found at the Indianapolis Star by clicking here.
Eight student journalists at The DePauw and student radio station WGRE recently received Region 5 "Mark of Excellence" awards from the Society of Professional Journalists. First place regional winners advanced to the national round of judging. National winners will be announced in mid-May. Read more in this previous story.
Back