A Record 14 Graduating Seniors Join Teach For America
May 5, 2006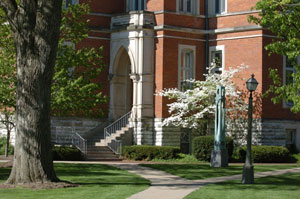 May 5, 2006, Greencastle, Ind. - A record 14 DePauw University seniors -- almost 2.5% of the Class of 2006 -- will spend their first two years as college graduates in Teach For America (TFA). "DePauw is one of the biggest schools of its size, if not the biggest, in terms of the student participation in our program." says Hilary Lewis, national recruitment director for TFA. "We're thrilled with the interest DePauw students have shown in bettering communities across America."
Teach For America is the national corps of outstanding recent college graduates of all academic majors who commit two years to teach in urban and rural public schools and become lifelong leaders in ensuring educational equity and excellence for all children. Its mission is to build the movement to eliminate educational inequity by enlisting the nation's most promising future leaders in the effort.

A record of 50 members of DePauw's senior class applied for the program this year. Fifteen were accepted, and 14 have agreed to join the corps. Interest in TFA, and the University's participation level, has increased significantly over the last three years:
2005: 38 applicants, 14 accepted, 13 joined
2004: 36 applicants, 12 accepted, 4 joined
2003: 28 applicants, 9 accepted, 8 joined
"Overall, the national acceptance rate has been around 17%, and DePauw, clearly significantly outpaces this," Lewis notes. "Moreover, the quality of students at DePauw is truly exceptional." Lewis says DePauw has had more applicants for TFA than some large state schools. "The message is clear: DePauw students are very interested in making a positive difference in the world early in their lives," she says.
The members of DePauw's 2006 graduating class who will Teach For America are: Jill C. Anderson, Caleb J. Beasley, Charles W. Carpenter, Amanda J. Cornell, Iris L. Dooling, Carlie N. Ewen, Lauren C. Hawley, Katherine M. Herman, Margaret A. McCullough, Sarah L. Plymate, Devonii L. Reid, Ashley E. Sewell, Wrede H. Smith III, and Kalyn T. Zamierowski.
"DePauw students' interest in Teach for America and their participation in large numbers is a source of pride for the University," says President Robert G. Bottoms. "I am delighted that some of our very best students, representing a range of academic disciplines, have chosen this means of giving back to a community. Investing their time educating students in some of our most underserved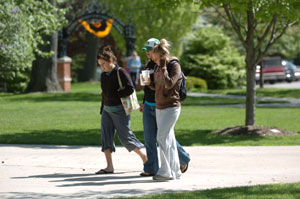 cities and towns will have a tangible effect on improving educational opportunities in America. Simultaneously our graduates will be broadening their own experiences prior to beginning graduate school or their professional careers. I am proud that so many DePauw graduates are selected for Teach for America, and believe that their contributions to society are making a real difference."
"DePauw has a long tradition of graduating students who join the ranks of teachers," adds Neal B. Abraham, executive vice president, vice president for academic affairs and dean of the faculty. "Our teacher education program has often graduated 25 to 30 students who earn licensure for elementary, secondary or middle school teaching in dozens of states. Teach For America provides another outlet for students interested in both teaching and service to the nation by joining
the teaching corps in schools that face special challenges in recruiting teachers. We could not be more proud of their dedication and commitment."
Since 1990, more than 14,000 exceptional individuals have joined Teach For America. They have directly impacted the lives of 2 million students and form a growing force of civic leaders committed to ensuring that our nation lives up to its ideal of opportunity for all.
Learn more about Teach For America -- which is a public-private partnership -- by clicking here.
Back