Media Fellow's Senior Seminar Project to be Staged Tonight, is Featured in Newspaper
May 5, 2006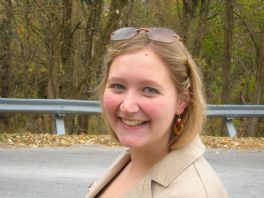 May 5, 2006, Greencastle, Ind. - An adaptation of the classic story Hansel and Gretel, directed by DePauw University senior Emily Waldren and starring Greencastle schoolchildren, will be be staged tonight in the Performing Arts Center's Moore Theatre and is the subject of a story in today's Banner-Graphic. The Greencastle newspaper reports, "Emily Waldren has always loved theater productions. As a result of that passion, the DePauw University senior, who is in the school's Media Fellows Program, decided in January that she wanted to share that love with local youngsters as part of her senior seminar program through the DePauw Media Fellows Program," writes Jason Moon.
"I did children's theater when I was little," Waldren, a literature major from Urbana, Ohio, tells the newspaper. "I wanted to do a project I was passionate about." So, for her senior Media Fellows seminar project, she "elected to work with local elementary students on a play. Waldren started working on the play by sending out 550 audition flyers at Tzouanakis Intermediate School. 'We had a real audition,'
Waldren said. 'I got 19 responses. Everybody that tried out got a part in the play.'"
The show will be performed tonight -- one night only -- and is free and open to the public. "It's been kind of a crazy couple of days," Emily Waldren exclaims. "It's been a lot of hard work, especially at the end of the semester. But I love it."
Read the complete story at the Banner-Graphic's Web site. Learn more about the Media Fellows program by clicking here.
Back