Edward Jones Managing Partner Jim Weddle '75 Describes How a DePauw Internship Changed His Career Path
May 7, 2006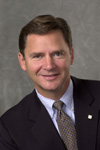 May 7, 2006, Greencastle, Ind. - A
St. Louis Commerce
magazine profile of Jim Weddle, managing partner of Edward Jones and 1975 graduate of DePauw University, examines Weddle's path to leading one of America's top financial services firms. The story notes, "Originally his plan was to become a veterinarian. But a month-long internship while attending DePauw University in Greencastle, Ind., made him rethink his options."
"I love animals, so I just thought being a veterinarian would be fun," Weddle tells the publication. "But after a month of late night emergencies, and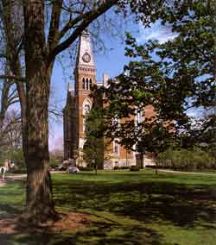 going to the sale barn to blood-type hogs, and a few other things better left unmentioned, I just knew it wasn't for me."
Christine Imbs writes, "Weddle ended up getting his B.A. at DePauw in psychology, with a minor in business and economics. He went on to Washington University and was working on his MBA when he joined Edward Jones as a part-time researcher. But although he loved the company, as well as the industry, research just didn't interest him. What he wanted was to be out in the field talking to folks."
Weddle became an investment representative with Edward Jones, and swiftly climbed the corporate ladder. In January,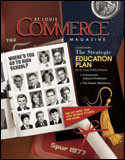 he became the fifth managing partner in Edward Jones' history in January this year. Weddle admits he misses interacting with clients on a daily basis. "It was fun sitting across the desk from someone, or in their living room, learning about their financial goals, understanding their situations and helping them find solutions. And the work we do is very, very important. People need to save. They need to get those dollars working. And we're helping them to do so."
The article also describes how Weddle encountered an angry bull during an early sales call. Read the entire text at the magazine's Web site.
Jim Weddle was also profiled in the March edition of On Wall Street.  Learn more in this previous story.
Back