UN Relief Agency Chief Karen Koning AbuZayd '63 "Terrified" by Escalating Tensions in Palestine
May 8, 2006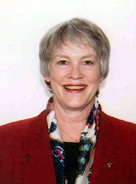 May 8, 2006, Greencastle, Ind. - Amid violent protests in the Gaza Strip by supporters of Hamas, "'We are really terrified' of what will happen if the situation is not turned around, Commissioner-General Karen Koning AbuZayd of the United Nations Relief and Works Agency told the Washington Times." AbuZayd, a 1963 graduate of DePauw University, talked with the newspaper while in Washington for meetings with government leaders. The article reports that AbuZayd, who leads the UN relief agency for Palestinians, fears that sanctions imposed by the West on the Hamas-led Palestinian government "may only serve to promote more extremism and further polarize the region," the Times' Sharon Behn writes.
"We are not talking of an explosion in Gaza alone, but its effect on the whole region," AbuZayd asserts. "Governments in the region will start taking sides, and this will polarize the region more than before."
Behn's story points out, "Although freely elected to office, Hamas is on the State Department's list of terrorist organizations and has refused to recognize Israel or to disarm its military wing -- key conditions to resuming donor aid. More than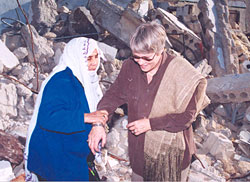 160,000 people, or roughly 30 percent of the Palestinian work force -- including 70,000 armed security personnel -- have not been paid their salaries for two months as a result of the U.S., European and other donor nations' decision to cut aid and Israel's decision to stop tax transfers to the Palestinian leadership. 'There will be a lot of refugees and non-refugees in a bad way, in need of food and medical care, and we are quite frightened,' Mrs. AbuZayd said. She said the number of people requesting aid had jumped from an average of 800 a month in the past five years to 25,000 last month, and the number was expected to jump again in the upcoming weeks."
Read the complete story by clicking here.
Back