US-China Relationship "Pivotal," Writes 9/11 Commission Vice Chair Lee Hamilton '52 in Op-Ed
May 8, 2006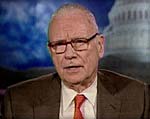 May 8, 2006, Greencastle, Ind. - The recent U.S. visit by Chinese President Hu Jintao illustrates "a tale of two Washingtons," writes Lee H. Hamilton in today's Indianapolis Star. The former congressman and co-chair of the 9/11 Commission and Iraq Study Group, Hamilton notes, "In Washington state, corporations like Microsoft, Boeing and Starbucks joined local officials and crowds of Asian Americans in celebrating deepening business and cultural ties between the U.S. and China. In Washington, D.C., (Hu's) talks with President Bush did not close the gap on important issues such as energy, non-proliferation and human rights."
A 1952 graduate of DePauw University, Hamilton continues, "These differing receptions reflect a broader truth: China represents different things to different people. It is governed by a communist party, yet has a rapidly opening economy. It is a totalitarian state, yet democracy is gradually emerging
at the local level. It is home to extreme rural poverty and backwardness, yet it is also home to some of the fastest-growing wealth and modernity in the world. It is a growing international force, yet it is intensely focused on its own domestic development. Some see China as a model for economic development and a force for global economic growth; others call China an economic pariah taking away jobs, driving down wages and violating trade rules. Some see China as a gradually opening society; others see a repressive regime that risks collapsing. Some see China as an emerging partner for stability in Asia and the world; others see China as a belligerent competitor to the United States that must eventually be challenged militarily."
Hamilton -- recently labeled the "Democrats' Mr. Integrity" by Newsweek -- asserts, "China's size is increasingly
matched by its importance to the United States. China supports our booming trade deficit and buys much of our debt, and American investment in China helps drive U.S. economic growth. China must also be at the center of American strategies to tackle tough challenges like the future of oil and gas as an energy source, the protection of the environment, and the fight against HIV/AIDS and avian flu. The Chinese are the key third party in attempts to resolve the North Korean nuclear crisis. Efforts to impose robust international sanctions on Iran for its nuclear program depend on Chinese cooperation within the United Nations Security Council. Counter-terrorism and attempts to shut down the proliferation of weapons and nuclear materials are strengthened by Chinese participation. And the future of Taiwan remains a flashpoint."
In conclusion, the veteran of 34 years in the House of Representatives states, "It is dangerous to either love or hate China. The reality is more complex and the consequences far too important. China is not predetermined to be our friend or enemy; its course will depend on policy choices by the U.S. and China, and those choices must be made with care and respect for the pivotal role of the U.S.-China relationship."
Read the complete op-ed at the newspaper's Web site.

Lee Hamilton will return to his alma mater to participate in DePauw Discourse 2006, October 26-28. Learn more in this previous story. He has also been elected a Fellow of the American Academy of Arts and Sciences (AAAS), and will be inducted -- along with other honorees including former Presidents Bush and Clinton -- on October 7.
Back