North Carolina Newspaper's Look at Satellite Radio's Challenges Includes Comments from Prof. Jeff McCall '76
May 10, 2006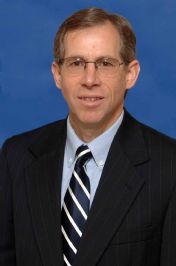 May 10, 2006, Greencastle, Ind. - "More than 80 percent of U.S. households have given up on TV antennas and instead get their signals from the cable company or via satellite, according to Leichtman Research Group, a New Hampshire market research firm. But few observers expect satellite radio to achieve market penetration on that scale," writes David Ranii in today's News & Observer of Raleigh, North Carolina. "'I don't know that radio is important enough in people's lives to pay for,' said Jeffrey McCall, communications professor at DePauw University. 'I think TV is.'"
Ranii's story is headlined, "Paying to hear radio?: Some question satellite radio's future as two top rivals gain subscribers, but keep posting losses." He notes, "For one thing, the alternative to cable or satellite TV is underwhelming -- local stations that you mostly have to pick up with rabbit ears. But the music available on satellite radio is readily available on CDs or through Internet downloads. Radio also isn't as high a priority as TV for most people."
Read the complete article at the newspaper's Web site.
Dr. McCall, a 1976 graduate of DePauw, was quoted in a story in yesterday's edition of New York's Newsday on the public outcry over rising gasoline prices, an issue he also addressed in a May 2 Indianapolis Star op-ed. That same evening, Jeff McCall made his sixth appearance on television's O'Reilly Factor to discuss coverage of the drug case involving Rush Limbaugh. A summary that includes video clips from the FOX News program can be accessed by clicking here.
In January, the professor wrote an op-ed on Howard Stern's switch to satellite radio.
Source: Raleigh (N.C.) News & Observer
Back