Indiana Repertory Theatre's Resident Dramaturg, Richard Roberts '81, Discusses His "Ideal Life-Long Learning Job"
May 11, 2006
May 11, 2006, Greencastle, Ind. - "Research is the big thing I do," Richard J Roberts, resident dramaturg for Indiana Repertory Theatre and 1981 graduate of DePauw University, tells the Indianapolis Star. "The IRT does a lot of period plays, but even contemporary plays require a certain amount of research. Mostly I assemble information for the actors and directors," he tells the newspaper in a profile that notes his music degree from DePauw.
"The information I run down includes things like: 'How much did a loaf of bread cost in 1911?' and 'What is an 'earth stomper?'' -- a term that appeared in Underneath the Lintel," Roberts adds. "Recently I've researched the civic organizations in Atlanta in the 1960s, the location of the streets that our current play Driving Miss Daisy mentions, and whether they are real or fictional."
He adds, "Actors want to know what every word means. It's my job to give them that information and the theatrical context and background: What was society like back in the time a play was written? What was the playwright thinking? What was he or she trying to convey to his audience, and how does that relate to our world? I also assemble information for the audience. This is anything that helps the audience better enjoy the production. In addition to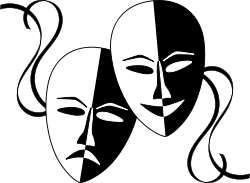 working with the actors and directors in putting together the play, I compile information for our programs, study guides and newsletters, and I outline the prologue that the IRT presents before each performance."
The full-time dramaturg at the IRT since 2001, Roberts exclaims, "The best part of my job is that every month we do a new play, so every month I have a whole new world to explore. I think my job is kind of the ideal life-long learning job. One month I'm in Elizabethan England, the next month I'm in 1980s Vienna, the next month I'm in 1940s Atlanta -- or maybe a strange world that has no location. I'm constantly exploring new realms of history and literature, and for someone like me, that's just fascinating."
Access the complete article at the Star's Web site.
Back