Student-Produced Art Exhibition, 'America's Skyline,' Opens at Peeler Center
May 11, 2006
Also: Senior Art Exhibition; 'Forgotten Sweat: Service Culture of the Golden Triangle'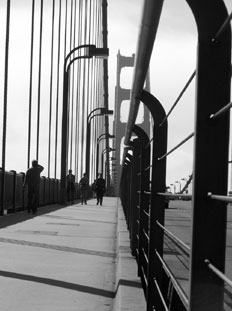 May 11, 2006, Greencastle, Ind. - "America's Skyline: The Urban Influence in Art," a collection of artwork that is inspired by American cities and was produced by DePauw University students, opens at the Richard E. Peeler Art Center at DePauw University today and continues through May 21. An opening reception will take place tonight from 7 to 9 p.m. The reception and the exhibition are free and open to all. (at left: Justin Kruse, Lines (2005), digital print, 5 x 7 inches)
By finding inspiration outside the rural environment of Putnam County, the student artists explore, through a variety of media, the relationship between the urban environment and artistic expression. Participating artists include: Allison Baccich, Jenna Campbell, Audrey Gehlhausen, Alia Hazel, and Justin Kruse.
"America's Skyline: The Urban Influence in Art" was curated by DePauw senior Jenna Campbell, and is installed in the atrium of the Peeler Art Center.
The galleries at the Peeler Art Center are open Monday through Friday from 9 a.m. to 4 p.m.; Saturday 10 a.m.-4 p.m.; and Sunday 1-5 p.m. For more information, click here or call (765) 658-4822.
Back