Morgan Stanley's Mary Meeker '81 "Riding High," Reports Fortune Magazine
May 13, 2006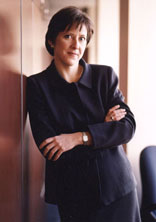 May 13, 2006, Greencastle, Ind. - "Speaking to Meeker, I was immediately reminded why she climbed so high up the Wall Street food chain," writes Andy Serwer in Fortune magazine of Mary Meeker, managing director of Morgan Stanley and 1981 graduate of DePauw University. "She is absolutely first rate when it comes to spotting big-picture trends before they come into focus," the writer adds in an article on Meeker, which appears in the May 15 edition of the publication.
"Her bailiwick is still what she calls TMT (technology/media/telecom), and she still recommends some of the same names she's been following for years, such as Yahoo (Research), Intuit (Research), and eBay (Research)," Serwer notes. "In Google she sees tremendous revenue growth. Her valuation model puts the stock at

around $500. But what seems to get Meeker most juiced these days is the new beast of the East. 'China is about to become the leading nation in the world in terms of using TMT products and services,' she says. 'China is No. 1 in mobile-phone usage and cable TV subscriptions, No. 2 in Internet users, and No. 4 in installed PCs, and growing fast.'"
Morgan Stanley tells Fortune that Meeker's picks have outperformed the S&P 500 in 11 of the past 13 years. Dubbed "The Queen of the Internet" when technology issues were flying high, Meeker tells the magazine, "Do I wish I'd downgraded stocks in 2000? Absolutely.
But I did caution investors, and I said, 'This is a portfolio. Not all stocks will go up.' Were women.com and homegrocer.com bad calls? Yes! But was Google at $118 a good call? Yes!"
Read the complete story, "Mary Meeker 2.0: With the Web booming again, Morgan's star analyst is riding high," by clicking here.
Mary Meeker spoke at the "Symposium for DePauw Entrepreneurs" on October 6, 2001. A story that includes video and audio clips from her presentation can be accessed here.
Back