Author Cathy Day '91 Among Participants at 9th Alabama Writers Symposium
May 15, 2006
May 15, 2006, Greencastle, Ind. - Author Cathy Day "said her fiction The Circus in Winter was inspired by her hometown of Peru, Ind., but the energy of small towns is similar across the country," notes an article in the Press-Register of Mobile, Alabama. "She said many times, her writing comes from her hometown talking softly to her in the back of her dreams." The article notes the appearance of Day, a 1991 graduate of DePauw University, at the Alabama Writers Symposium.
Now in its ninth year, the symposium takes place in Monroeville, Alabama. The event "draws hundreds to the town that helped mold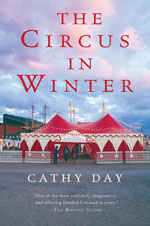 the works of some of the South's most critically acclaimed writers -- a place, as it turns out, that is not much different from small towns across the state, judging by what authors such as Suzanne Hudson and Cathy Day had to say," writes Connie Baggett. An assistant professor of English at the University of Pittsburgh, Day was an English Composition major at DePauw.
Read the complete story at the newspaper's Web site.
Cathy Day's book has received praise in numerous media outlets, including the New York Times, Newsday, MSNBC.com and Sports Illustrated. The Circus in Winter also appeared on several year-end "best of 2004" lists (read more here). The book, Day recalls, "was born my senior year in Tom Chiarella's senior seminar" at DePauw.
Learn more in this previous article.
Back