Lee Hamilton '52 Awarded Elliot L. Richardson Prize for Excellence in Public Service
May 15, 2006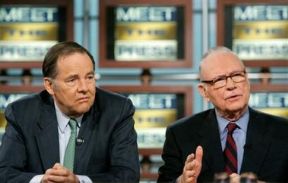 May 15, 2006, Greencastle, Ind. - Lee Hamilton, former United States Congressman and 1952 graduate of DePauw University, and his co-chair on the 9/11 Commission, former New Jersey Governor Thomas Kean, were awarded the Elliot L. Richardson Prize for Excellence in Public Service this afternoon in Washington, D.C. The honor is presented by the Council for Excellence in Government, a nonprofit, nonpartisan organization that works to improve the performance of government at all levels, and to increase citizen participation, understanding and trust in government. (photo at top shows, l-r, Kean and Hamilton on NBC's Meet the Press, December 4, 2005)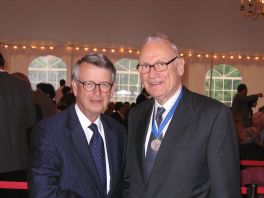 The Elliot L. Richardson Prize for Excellence in Public Service was established in early 2000 to recognize extraordinary, sustained accomplishment and integrity in government service and to encourage achievement by future public leaders at the level Richardson demonstrated in service to his country. Previous winners include former Supreme Court Associate Justice Sandra Day O'Connor, U.S. Transportation Secretary Norman Y. Mineta, former Office of Management and Budget Director Alice Rivlin and former Secretaries of State Colin Powell and George Shultz.
Read more by clicking here, and visit the Council for Excellence in Government here.
Hamilton and
Kean have also been elected 2006 Fellows of the American Academy of Arts and Sciences (AAAS) and will be inducted in October. In October 2005, the two men were honored with the Four Freedoms Medal by the Franklin and Eleanor Roosevelt Institute (photo above shows Hamilton at the ceremony with DePauw President Robert G. Bottoms). Learn more in this previous story.
TIME magazine listed Hamilton and Kean as two "People Who Mattered 2004," noting, "In an election year filled with low blows, 9/11 Commission chairman Kean and vice chairman Hamilton stood tall -- cajoling testimony from Condoleezza Rice and President Bush, accessing key high-level documents and pushing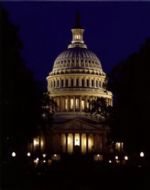 Congress to pass sweeping intelligence reform. Along the way, their 567-page report about the day the Twin Towers fell became a best seller."
Lee Hamilton, who is currently president of the Woodrow Wilson International Center for Scholars, served 34 years in the United States House of Representatives and was recently called upon to co-chair the new Iraq Study Group (Vernon Jordan, a 1957 graduate of DePauw, will also serve on the panel). In a March column at Newsweek.com, Eleanor Clift called Hamilton "the Democrats' Mr. Integrity." Learn more by clicking here.
Hamilton will return to his alma mater to participate in DePauw Discourse 2006, October 26-28. Details can be found in this previous story.
Back