DePauw's CTEP is an Example of Innovative Computer Recycling Initiative, Grinnell Student Writes
May 31, 2006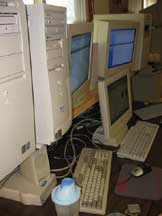 May 31, 2006, Greencastle, Ind. - A Greencastle resident who is now a student at Grinnell College writes of his experience working with DePauw University's Community Technology Enhancement Program (CTEP) in the Des Moines Register. At the non-profit CTEP, Aden Stinebrickner-Kauffman states, "We took computers that schools, corporations and individuals no longer wanted and assembled working computers from the parts. We then donated the now-working computers to organizations and individuals who could not afford new computers. DePauw University paid for the work and for the equipment and software to do the job."
Stinebrickner-Kauffman (son of DePauw professor and chair of political science Bruce Stinebrickner) asserts, "While I applaud DePauw for funding CTEP," she wonders why more organizations aren't willing "to pay for a program that makes both economic and environmental sense."
Older computers, he notes, often wind up being shipped overseas for disposal, a practice that she calls "environmentally unsound... E-waste dumping occurs because computer recycling is not cost-effective in the United States. It is cheaper to find the materials elsewhere and dispose of old computers in other ways." Stinebrickner-Kauffman declares, "the government should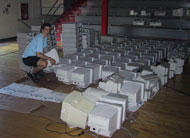 follow California's lead and impose a fee on purchases of computers and other electronics, then use the revenue to pay for proper disposal of e-waste. Additionally, the government should sign the Basel Convention and regulate the computer recycling industry to ensure that other countries do not pay for our indulgence."
Read the complete column at the Iowa newspaper's Web site. Learn more about CTEP in this previous story.
Back