Indianapolis Star Notes DePauw's Tennis and Baseball Successes
May 19, 2006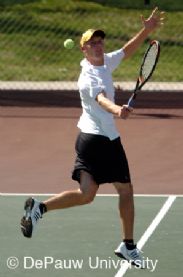 May 19, 2006, Greencastle, Ind. - "No. 11 DePauw's season ended Wednesday in the NCAA Division III quarterfinals with a 4-0 loss to No. 2 Emory," notes this morning's Indianapolis Star. "Tigers junior Evan Webeler, the SCAC Player of the Year, will compete in the NCAA Singles Championships beginning Saturday. DePauw finished 21-7," writes Kristen Leigh Porter.
At the NCAA women's competition, the sixth-ranked Tigers dropped a 5-4 decision to fourth-ranked Claremont-Mudd-Scripps Wednesday in the national quarterfinals. DePauw finished its season at 24-2. The Tigers' Liz Bondi and Amrita Padda will begin play in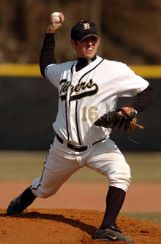 the Division III Singles Championship tomorrow, while the teams of Bondi/Padda and the duo of Erin Andrade and Connie Shim will compete in the Doubles Championship.
Later in the same Star column, Porter reports, "In DePauw's season finale earlier this month, senior P.J. Mitchell set a single-season strikeout record with No. 80, breaking the mark of 79 set in 1999. Matt Kleine (Hamilton Southeastern) and Adrian Norris (Crawfordsville) were named to the Southern Collegiate Athletic Conference All-Tournament team for the Tigers, who finished 20-23."
Read the article at the newspaper's Web site. For comprehensive coverage of Tiger athletics, click here.
Back