As Commencement Nears, Prof. Ken Bode Writes of a War That is "Somebody Else's Problem"
May 19, 2006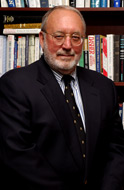 May 19, 2006, Greencastle, Ind. - "With commencement just days away, this is the time when professors bid farewell to their best students and check on their future plans," begins Ken Bode's weekly op-ed, published in today's Indianapolis Star. The Eugene S. Pulliam Distinguished Visiting Professor of Journalism at DePauw University notes, "For this graduating class, the Iraq war broke out when they were freshmen ... By second semester, President Bush was prancing on the aircraft carrier deck under the sign 'Mission Accomplished.'"
Professor Bode continues, "Around that time, I was invited to speak to a class of first-year honors students. I found them to be a bit indifferent about what was going on in Iraq. Why not? They picked college over the military, so the only war they'll ever see is on television. In universities, sometimes professors teach by using hypotheticals. I encouraged the class to listen carefully to President Bush's Saturday radio address, that it concerned them directly. I added that CNN was reporting that Bush would announce an active military conscription. Both men and women would be drafted, no college deferments. Names would be drawn by lottery, and by next semester college health facilities would begin giving military physicals.

The mood in the room darkened considerably, and for the next hour we talked about the real possibility that some of them might soon face basic training and Iraq instead of seminars and fraternity parties."
The lesson from Bode, a former network news correspondent for CNN and NBC "was not an April fool's trick. For one hour they really saw their world differently and some of them still talk about it. For seniors receiving diplomas all over the country, Iraq is not their war. It is somebody else's problem, someone less fortunate. Under the robes and mortarboards, there is no sense of shared sacrifice. College is not necessarily easy, but it is a lot safer life than if you could not afford the tuition."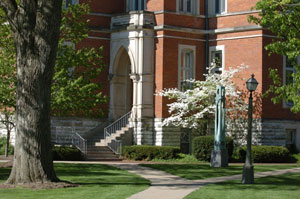 The professor recalls, "At DePauw, this year's seniors have a famous predecessor from the class of 1970, a fellow named Clark Adams, a star student who never made it to graduation. Back then, the body count from Vietnam was climbing and Adams, like all his college pals, had an appointment with his draft board right after commencement. On the day President Nixon announced the invasion of Cambodia, violent demonstrations broke out on campuses all over the country. Among the first was at DePauw where Clark Adams and a friend protested the war by burning down the ROTC building. The gasoline blew back and burned Adams terribly. For this act of desperate anger against an undeclared, seemingly endless war, Adams nearly lost his life."
In conclusion, Dr. Bode notes, "Sen. Evan Bayh, who may be running for

president, will give the DePauw commencement address Sunday. What I would like to hear Bayh say are the following two things: First, if I am president and I believe the country must go to war, I will ask Congress to declare war the way the Constitution says it must. Second, if it is worth going to war, the entire country will be called to duty. We all will share in the commitment and the sacrifice. That will include a draft. Men and women. No college deferments."
Access the complete essay at College News.org. Last Friday, Ken Bode wrote of the escalating tensions in Iran. Read more in this previous story.
Source: Indianapolis Star
Back