Sunday Rain Chances Diminish as Commencement Preparations Continue
May 19, 2006
Also: Official Commencement Web Page; Pre-Order Your 2006 Commencement DVD Today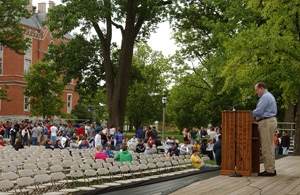 May 19, 2006, Greencastle, Ind. - As the clock ticks toward Sunday's 167th Annual Commencement at DePauw University, the weather forecast, which was calling for a 40% chance of showers, is now more optimistic. The Weather Channel's latest outlook calls for partly cloudy skies and a 20% chance of precipitation with a high temperature of 67 degrees. The ceremony is set to begin at 1 p.m. on the lawn of historic East College, weather permitting. In the event of rain, the program will be moved indoors to the Lilly Center. To view the Greencastle forecast (updated around the clock), click here.
The sun was shining Friday morning as the Class of 2006 gathered for a run-through
of Sunday's festivities. Approximately 600 students will receive diplomas this weekend, representing the largest graduating class in DePauw's recent history.
Sunday's event will feature an address by United States Senator Evan Bayh (D-Ind.), who is considering a run for the presidency in 2008. Bayh's speech to DePauw's graduates was noted in a story in Roll Call, the newspaper of Capitol Hill, and will be covered by cable television's C-SPAN, which plans to replay Bayh's speech for its national audience at a later date.
Read more about Sen. Bayh in this previous story.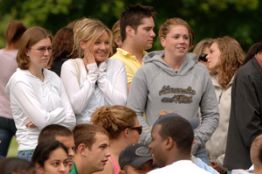 Commencement will also include speeches by DePauw President Robert G. Bottoms, and 2006 graduate Matt Ehinger, the recipient of this year's Walker Cup. Senator Bayh and George H. Aldrich -- a judge for the Iran-United States Claims Tribunal in The Hague, Netherlands, and 1954 graduate of DePauw -- will receive honorary degrees during the ceremony.
For a complete schedule of commencement events, and links to related stories and visitor information, click here.
Back