"Relatively Unassuming" Dan Quayle '69 Raises Charitable Funds and Visits Wounded Marines
May 21, 2006
May 21, 2006, Greencastle, Ind. - "I'm here to show my support to the military," says Dan Quayle, who is participating in this weekend's 3rd Annual Marine Corps Celebrity Invitational at Camp Lejeune, North Carolina. "Everything in this world is so partisan now, but there's no divide about supporting the troops," adds the 44th Vice President of the United States, a 1969 graduate of DePauw University. Quayle is the subject of a story in the Daily News of Jacksonville, N.C.
"Quayle plans to visit Lejeune's Wounded Warriors barracks during his stay in the area," writes Chris Mazzolini. "He expects that visit to be 'very emotional,' reminiscent of the hospital visits he used to make as a politician and lauded the base for the measure."
The article notes that the former vice president is "relatively unassuming. He doesn't have a security detail or

anything like that," and that Quayle prefers to walk the golf course. Mazzolini notes, "Quayle left the public spotlight in 2000, when he ran unsuccessfully for the Republican presidential nomination. In his business life, Quayle is the chairman of Cerberus Global Investments, a multi-billion-dollar global investment company."
Of his career in politics, Quayle tells the newspaper, "I had a wonderful 16 years and I stay in touch as much as I can." Previewing the mid-term elections in November, he says, "The Republicans have a real tall mountain to climb." And on the war in Iraq, Quayle declares, "We can argue all day based on what was the right thing to do. The fact of the matter is we are there now. It's an opportunity to establish liberty and freedom in a part of the world that hasn't experienced it before. We've got to see it through and hope for the very best."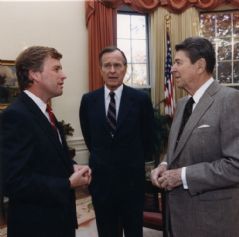 Read the complete story at the newspaper's Web site. Learn more about the tournament -- which also features Joe Theismann, Johnny Bench and Jim McMahon and is raising funds for three military-related charities -- by clicking here.
Dan Quayle was profiled in the October 3, 2005 issue of Business Week, which described him as a "smart-as-they-come businessman."
In November, a video tribute from Dan Quayle was played at a dinner honoring his former golf coach and good friend, Ted Katula. See it by clicking here.
Back