Sen. Evan Bayh Calls on DePauw's Class of 2006 to Build Unity and Restore Patriotism
May 21, 2006
Also: DePauw Sends 607 Graduates Into "An Interconnected World"; Two Receive Honorary Degrees; Visit Commencement Photo Gallery; Order Your 2006 Commencement DVD
May 21, 2006, Greencastle, Ind. -

[Download Video: "It's Our Time" - 2911kb] "What makes America special, for more than 10 generations, is that each generation has been willing to meet the challenges of its time: the sacrifices, the tough decisions, the hard going," United States Senator Evan Bayh told DePauw University's 167th Annual Commencement this afternoon. "That's what happened in Concord. That's what happened at Gettysburg. That's what happened on the cliffs of Normandy. That's what's always happened to make America great. And now it's our time to give that idea and that promise a renewed sense of vitality and reality," he added.
One of the largest graduating classes in recent DePauw history -- 607 students -- received diplomas in the ceremonies, which took place under idyllic conditions of sunshine and 67 degrees.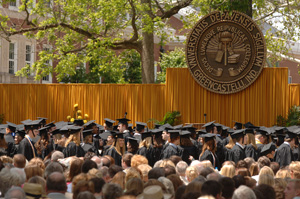 Bayh called on the 607 graduates who received their diplomas, and the parents, family, friends and faculty members who filled the lawn of historic East College, to commit themselves to "renewing America's greatness." The Democrat, who is considering a run for president in 2008, told them, "Greatness does not happen by accident. It is earned, it is made, it is created by those who have the strength to make it happen. And so must we."
With the debate over immigration continuing across the nation, Indiana's junior senator recalled how, fresh out of law school, he served as a clerk for United States District Judge James Noland and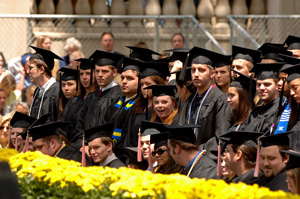 participated in a naturalization ceremony.

[Download Audio: "America's Uniqueness" - 790kb] "The Oath of Allegiance you take to our country, the bonds that bind us as Americans, are different in some pretty profound ways than the bonds that exist in other countries," Bayh noted. "An Oath of Allegiance to America is not an oath to an ethnic group, or a racial group or a religious group; it's not an Oath of Allegiance or a bond to any political party; it's not even really about -- when you drill right down deep and you think real hard about it -- an Oath of Allegiance to a geographic area. What makes America special (is that) the Oath of Allegiance to our country is really the Oath of Allegiance to an idea, to a dream, to a promise that for more than 200 years has said to everyone in this country who has wanted to work hard and dream big and sacrifice to make those dreams come true, that you can make it. You can have a life that's filled with more opportunity, more hope, more freedom, more justice. That's what makes the United States of America the special place that it is," Bayh said in a speech that was recorded by C-SPAN for national broadcast at a later date.

[Download Audio: "A Divided Nation" - 556kb] "We've got to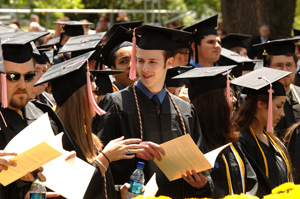 find more unity in this country, and less division," Bayh asserted. "We're too deeply divided; we're much too polarized... divided along religious lines and ethnic lines and lines of class. That is not America. That is not the path of greatness. We have to reconcile our differences and build bridges across the divide."
Senator Bayh called on the new graduates to work to unite their country, adding,

[Download Video: "A Crucible" - 1911kb] "America is at it's best and strongest, not when we are divided, but when we are one people with a common heritage and a common destiny. This country has always been a crucible in which we take our differences and instead find common ground. It is all too easy when you're in a position of power to think that you know everything, to rule with the whip hand, to not have a sense of respect for those who may have differing opinions. But that also is not America."
Now in his second term in the U.S. Senate, the former two-term Indiana Governor also called on his audience to give thought to the notion of sacrifice, saying that America needs a deeper sense of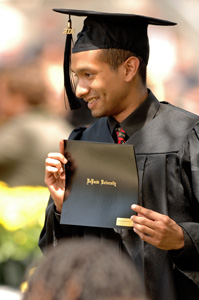 patriotism, and not one based simply upon symbols like the flag.

[Download Audio: "The Price of Freedom" - 327kb] "What are we willing to do to meet the generational challenges that we face so that the future will not be simply entitlements for us, and obligations and debt for them? What must we do to support this country in time of military conflict? What of our ease, what of our comfort, what of our abundance are we willing to give up to truly support those who bear the burden, who pay the sacrifice, who wear the uniform?," Bayh asked.
Recalling a visit to Walter Reed Army Medical Center, where he met with soldiers who had suffered horrific injuries while fighting on behalf of their nation, an emotional Evan Bayh said,

[Download Video: "Pause for Thought" - 2821kb] "And I left the hospital that day, a day like this, and the breeze touched my cheeks and the sunshine hit my face and I sat down on the curb -- and then, too, I tried to hold the emotions back -- and I thought to myself, 'What have I done? What can I possibly do to be worthy of them? To support them, to honor my country in the way they have done, what can I do?' And I will confess that, for me and for, I think too many of us, the answer so far is not nearly enough. And that is something we must change if America is going to be all that it must be," Bayh added, fighting back tears.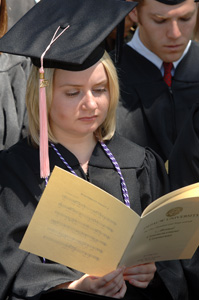 The senator looked out at the seniors, moments before they received their diplomas, and noted,

[Download Video: "Bayh on DePauw" - 2509kb] "Those of you who are graduating today are graduating from a great institution of higher learning: one of the greatest not only in the state of Indiana, but one of the greatest in the United States of America. You are fortunate in that fact, and I am confident that your time here at DePauw has prepared you to do not only well in the years that lie ahead in a world that is demanding a higher level of knowledge and intelligence to prosper economically, but also to do some good with your life and to understand that your own well-being is going to be defined by a whole lot more than just your narrow self interest. This is the kind of institution that I'm confident has instilled that in you. I wish we could instill that sense in more Americans today."
In closing, Evan Bayh declared,

[Download Video: "A Closing Message" - 1533kb] "A devotion for doing for others, not just for ourselves: this is the genius of America. This will be the test of our generation. It is the challenge and the charge that I leave to you, the members of the Class of 2006, and I ask God's blessing on each and every one."
The complete address is available in three parts on YouTube (it is also embedded above).
Senator Bayh and George H. Aldrich '54 received honorary degrees in today's program. Learn more in this story.
Another article, accessible here, details the address by Walker Cup recipient Matt Ehinger '06 and the address to graduates by DePauw President Robert G. Bottoms.
DePauw University is producing a DVD of today's festivities. Details can be found in this previous story.
Back