Two Honorary Degree Recipients Share Commencement Day with DePauw's Class of 2006
May 21, 2006
Also: DePauw Sends 607 Graduates Into "An Interconnected World"; Sen. Evan Bayh's Address to the Class of 2006; Visit Commencement Photo Gallery; Order Your 2006 Commencement DVD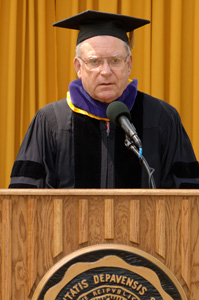 May 21, 2006, Greencastle, Ind. -

[Download Video: "George H. Aldrich" - 3904kb] "When I sat in your place and was a graduate here 52 years ago, the memories of the Great Depression and the second World War and the founding of the United Nations were fresh in our minds," says George H. Aldrich, a judge for the Iran-United States Claims Tribunal in The Hague, Netherlands. Aldrich, a 1954 graduate of DePauw University, spoke as he received an honorary Doctor of Laws degree at today's 167th Annual Commencement.
On that day more than a half century ago, Aldrich says, "The need to strengthen the relatively primitive structure of international law and international institutions was, I think, generally recognized. Today that is no longer the case," he continued. "And we see, even in our own government, very different priorities that threaten our respect for international law. I think today, just as half a century ago, our national security requires that we comply with the international law we've helped to create and that we make perceptive and unrelenting efforts for the progressive development of that law, and for improved compliance with it by all states.
Aldrich has served on Iran-United States Claims Tribunal --which was established as part of the agreement resolving the 1979 Iranian hostage crisis -- since 1981. His distinguished career has included working with Secretary of State Henry Kissinger in negotiating the peace agreement in North Vietnam, drafting protocols to the Geneva Convention on the Laws of War in 1974, and serving as a U.S. Representative at the United Nations' Law of the Sea Conferences from 1977 to 1981. In 1980, President Carter gave Aldrich the rank of Distinguished Senior Executive, the first State Department official so honored. He is a member of the Council on Foreign Relations, the American Society of International Law, and the International Institute for Humanitarian Law.
Judge Aldrich graduated with distinction from DePauw where he majored in history and was a Rector Scholar. He holds a Master of Law degree from the Harvard Law School.
Also honored was United States Senator Evan Bayh (D-Ind.), who was presented with an honorary Doctor of Public Service degree

[Download Video: "Video of Sen. Bayh Receiving Degree" - 2107kb] .
Bayh also presented the address to the Class of 2006 during the ceremony, telling the graduates,

[Download Video: "Reflections" - 1123kb] "It's appropriate to reflect not only on the joys and the celebration and all of that, but perhaps also on the challenges and the responsibilities that lie ahead. Because I believe that when you look back on your life someday it will be how you met those challenges (and) how you fulfilled those responsibilities that will define your life and will help to define this country."
The senator also noted,

[Download Video: "Bayh on DePauw" - 2509kb] "Those of you who are graduating today are graduating from a great institution of higher learning: one of the greatest not only in the state of Indiana, but one of the greatest in the United States of America. You are fortunate in that fact, and I am confident that your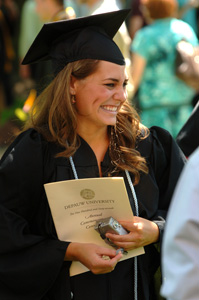 time here at DePauw has prepared you to do not only well in the years that lie ahead in a world that is demanding a higher level of knowledge and intelligence to prosper economically, but also to do some good with your life and to understand that your own well-being is gonna be defined by a whole lot more than just your narrow self interest. This is the kind of institution that I'm confident has instilled that in you. I wish we could instill that sense in more Americans today."
Read a comprehensive account of Evan Bayh's speech here.
One of the biggest graduating classes in recent DePauw University history -- 607 students -- received diplomas today. The ceremony took place on the lawn of historic East College under sunny skies and a temperature of 67 degrees. Read more by clicking here.
DePauw University is producing a DVD of today's festivities. Details can be found in this previous story.
Back