TV and Newspaper Coverage of DePauw's 167th Annual Commencement
May 22, 2006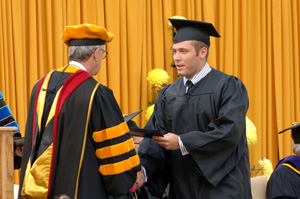 May 22, 2006, Greencastle, Ind. -

[Download Video: "WTHR Report" - 1522kb] "A big hats off to the DePauw University Class of 2006 tonight," offered WTHR anchor Linsey Davis during the Indianapolis NBC affiliate's 11 p.m. newscast last night. "The 167th Commencement took place at one o'clock this afternoon in Greencastle. A selection committee primarily made up of DePauw seniors chose Senator Evan Bayh to speak at the graduation ceremony," she continued. The report notes that Bayh addressed "national as well as global issues, and also talked about how each student needs to consider what they can do to make America a better place."
A story on Senator Bayh's address -- including photos and audio and video clips -- can be accessed here.
Visit WTHR online by clicking here.
"U.S. Sen. Evan Bayh's comments to graduating seniors at DePauw University on Sunday sounded less like a commencement address and somewhat more like a campaign speech, with a call for American unity and a 'renewed sense of patriotism,'" writes Deb McKee in today's Terre Haute Tribune-Star. "While there has been no formal announcement, Bayh is considered to be a likely presidential contender in 2008. With that in mind, the national spotlight has begun to seek him out wherever he goes, and his presence at the DePauw commencement was no exception. The cable network C-SPAN covered the senator's speech, and plans to replay it for its national audience at a later date, according to the DePauw University Web site."
Access the complete article at the newspaper's site.
Source: WTHR (NBC)/Indianapolis
Back