DePauw Women Are Nation's Second-Best Doubles Team
May 23, 2006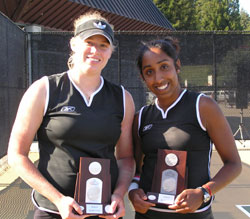 May 23, 2006, Greencastle, Ind. - "The Gustavus Adolphus women's tennis doubles team of Tara Houlihan and Lyndsey Palen successfully defended their Division III doubles crown Monday evening with a 5-7, 6-3, 6-4 win over DePauw's Liz Bondi and Amrita Padda at the 2006 NCAA Division III Women's Tennis Championships in Santa Cruz, California," notes a story posted at NCAA.com. It adds, "The DePauw duo won four straight games to take the opening set 7-5. The championship victory avenged an 8-6 loss to Bondi and Padda during the Midwest Invitational Dual Tournament earlier this season. It had been the only blemish on the Gustie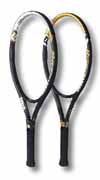 tandem's now 26-1 record."
Meanwhile, today's Boston Globe reports, "In women's singles, Amherst's Kristen Raverta defeated Liz Bondi of DePauw, 3-6, 6-3, 6-3, in the semifinals" yesterday. Bondi, the top seed, won the first set of her match against fourth-seeded Kristen Riverta of Amherst, but Riverta won the final two sets and the match 3-6, 6-3, 6-3.
Read the newspaper items, respectively here and here. For comprehensive coverage, visit the Web site of the women's tennis team.
Back