Three 2006 Graduates Featured in Inside Higher Ed Story on "The Hot Choice, Post-College"
May 26, 2006
May 26, 2006, Greencastle, Ind. - "Law school or Teach For America? Wrede Smith, a DePauw University political science major, weighed his options this spring as graduation loomed. Acceptance letters arrived from two of four law schools, and he received his invitation to enter the teaching corps in April," begins a story in today's edition of Inside Higher Ed. "In the end, Smith chose to enroll in the most competitive of his options -- the one that accepts less than 20 percent of its applicants (hint: it has nothing to do with torts or criminal procedure)."
Elia Powers reports that applications to Teach For America climbed about 10% during the 2005-06 academic year to 19,000 -- a new record high. The program "places students from top colleges in classrooms in disadvantaged school districts for a two-year assignment... Teach For America accepted about 3,300 students this spring -- fewer than one in five of those who applied -- and roughly 2,400 are expected to begin teaching in the fall."
A record of 50 members of DePauw's senior class applied for the program this year. Fifteen were accepted, and 14 have agreed to join the corps. They are: Jill C. Anderson, Caleb J. Beasley, Charles W.

Carpenter, Amanda J. Cornell, Iris L. Dooling, Carlie N. Ewen, Lauren C. Hawley, Katherine M. Herman, Margaret A. McCullough, Sarah L. Plymate, Devonii L. Reid, Ashley E. Sewell, Wrede H. Smith III, and Kalyn T. Zamierowski.
"We've had a jump over the last couple of years due in part to this generation of students increasingly wanting to do public service," says TFA's Todd McGovern said.
"They see that it's within their reach."
Powers notes, "A record 14 DePauw graduates plan to begin their assignments in the fall, including Charles Carpenter, who, like Smith, chose Teach For America over law school. 'I think that inequality in public education is our most pressing domestic issue. It is the new injustice,' he said in an e-mail."
The story continues, "Smith, who will be teaching in St. Louis this fall, said he is interested in experiencing public policy first-hand. He said he doesn't plan to stay in teaching -- other than perhaps a faculty position in higher education -- beyond the two years required by Teach For America. 'The idea that I could take two years off before law school and do something productive seemed like a good one,' he said. 'I'll be better prepared [for law school] in two years than if I was going this fall.'"
Later, Inside Higher Ed points out, "Smith, the DePauw student, said some of his cohorts applied in the fall round and accepted right away. 'For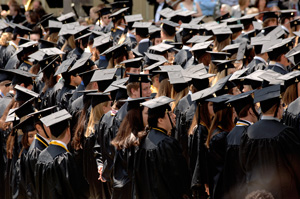 most people it's their first choice,' Smith said. It was for DePauw graduate Lauren Hawley, who said the social justice element of the program sold her right away. 'TFA was my first choice for post-grad plans... I did not apply for any other jobs,' she said in an e-mail."
Read the complete article, headlined "The Hot Choice, Post-College," by clicking here.
On February 1, the publication previewed DePauw President Robert G. Bottoms' "Passage to India."
Sign up for free daily delivery of Inside Higher Ed here.
Source: Inside Higher Ed
Back