Commencement DVD Will Ship in About 10 Days
May 26, 2006
Also: Visit Commencement Photo Gallery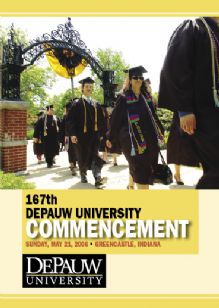 May 26, 2006, Greencastle, Ind. - DePauw University's 167th Annual Commencement took place less than a week ago, but the special edition DVD of the event is already being manufactured and should ship the week of June 5. The master of the disc -- which includes the entire commencement program and bonus materials, including a photo gallery -- was created at DePauw and shipped to Sony Disc Manufacturing Wednesday. The plant is now in the process of pressing the DVDs for the students, parents and alumni who ordered them. Once the finished product arrives on campus, the orders will be processed and the discs will ship.
The DVDs remain available for $25 for the first copy, and $10 for each additional disc being sent to the same address. You can access an online order page by clicking here.
In addition to the commencement ceremony -- which featured an address to graduates by United States Senator Evan Bayh -- the disc shows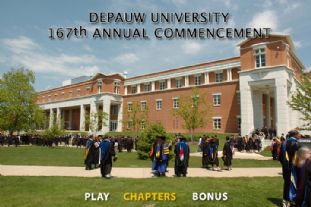 every graduate receiving their diploma. The menu allows users to pick a particular letter of the alphabet and go directly to that portion of the program. Bonus materials include an extensive photo gallery compiled by Matt Bowen, University photographer, as well as some campus highlights and the "Monon Memories" covering all four years the Class of 2006 was on campus.
"I think people will be very pleased with the disc," says Ken Owen '82, director of media relations at DePauw, who mastered the DVD. "I'm especially pleased we were able to turn this around so quickly so that graduates and their families will be able to enjoy the disc while memories of the special day are still fresh. A tip of the hat is due Eric Harvey, video specialist for the Information Technology Associates Program and the Pulliam Center for Contemporary Media, who assisted with the project, as well as Dian Phillips -- who created the art for the disc and its packaging [seen at top] --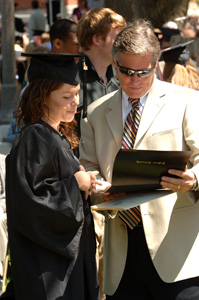 and Matt Bowen, who made the menus and shot the photos, which are beautiful." Owen notes that the photo gallery on the disc contains more than 100 images. Valeta May and Annette Woolsey assisted with processing orders.
This marks the tenth DVD that DePauw has produced -- the 2001-04 commencements and the last five Monon Bell Classics also received the digital treatment. They, too, can be purchased by clicking here (note that stock of the 2002 Monon Bell game is extremely low. As these are limited edition discs, when the supply is exhausted they will become unavailable.)
Articles on Sunday's 167th Commencement -- including video and audio clips -- include a summary of Senator Bayh's speech, an overview of the ceremony, the awarding of honorary degrees, and media coverage of the event.
Back