"Fiscal Recklessness" Imperils America's Future, Declares Lee Hamilton '52
May 29, 2006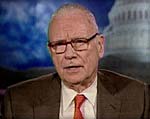 May 29, 2006, Greencastle, Ind. - "House and Senate negotiators have come up with a striking new dodge for misleading American taxpayers" in the new tax reconciliation bill, writes Lee Hamilton. The former United States Congressman and 1952 graduate of DePauw University notes, "The dodge is that senators are relying on an official budget analysis that doesn't extend past 2015, which allows them to claim that the measure will not deepen the deficit and therefore doesn't violate Senate rules. Brilliant! If it's not official, then it must not be a problem. We would chuckle at such tax and budget shenanigans on Capitol Hill but for one thing: They've become so habitual that they are now a threat to the long-term economic health of the United States and to your economic future, as well."
Hamilton, who spent 34 years in Congress and co-chaired the 9/11 Commission and is in a similar role in the new Iraq Study Group, asserts, "With massive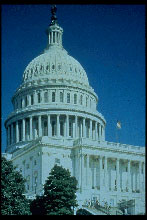 deficits, exploding debts to foreign governments and investors, and great uncertainty about the future of entitlement programs such as Social Security and Medicare, Americans need honesty, candor and straightforward budgeting from our political leaders. Instead, we get one ingenious gimmick after another."
The ongoing war in Iraq is usurping huge resources, Hamilton says, and tax cuts are not permanent, and worse, put the nation in precarious fiscal shape for the future.
"Congress has become immensely creative when it comes to fiscal recklessness," burying new spending proposals in "omnibus" bills, among other things, the Democrat argues. "Make no mistake about it, there is a cost to all this fiscal cleverness. America's population is aging, yet we are making no moves to get our fiscal house in order before the demands on the treasury outstrip anything we've known before now. Our spiraling federal deficit soaks up private dollars that might otherwise go to capital investment and productivity growth, both of which are vital if we're to afford
the future we want for ourselves and avoid getting deeper in hock to the rest of the world... Fiscal recklessness today, in other words, puts our -- your -- economic health at risk tomorrow."
In conclusion, Hamilton declares, "it's time for Congress to treat Americans as adults." He states, "There is plenty of talk in Washington about changing the budgeting process, and some of it is warranted, but you should not let politicians escape responsibility for fiscal irresponsibility by talking about rules changes or the line-item veto. Politicians love to talk about procedural solutions because it enables them to dodge responsibility for the tough substantive choices... We need political leaders who are budgetary straight-shooters, who will insist these budget gimmicks must go, and who are willing to level with voters about the impact of their policies, use accounting methods that accurately reflect what they're doing, and be honest about the hard fiscal choices that face us."
Read the complete essay at the Web site of Indiana's Decatur Daily Democrat.
Hamilton, who is currently president of the Woodrow Wilson International Center for Scholars, was awarded the Elliot L. Richardson Prize for Excellence in Public Service May 15, along with 9/11 Commission co-chair Thomas Kean. The two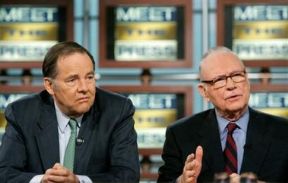 men have also been elected 2006 Fellows of the American Academy of Arts and Sciences (AAAS) and will be inducted in October. In 2005, the Hamilton and Kean were honored with the Four Freedoms Medal by the Franklin and Eleanor Roosevelt Institute. (image at right shows Kean and Hamilton on NBC's Meet the Press, December 2005).
In a March column at Newsweek.com, Eleanor Clift called Hamilton "the Democrats' Mr. Integrity." Learn more by clicking here.
Hamilton will return to his alma mater to participate in DePauw Discourse 2006, October 26-27. Learn more in this previous story.
Back