Prof. Jim Beckel's Liberty for All to be Featured in New Jersey Symphony Orchestra Concert
May 30, 2006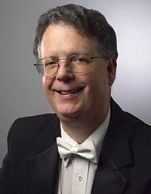 May 30, 2006, Greencastle, Ind. - Liberty for All -- a composition by James A. Beckel Jr., adjunct professor of trombone and euphonium in the DePauw University School of Music -- will be featured in a June 25 performance of the New Jersey Symphony Orchestra. Beckel's work will be among those played in the twenty-third annual celebration of America by the Arts Council of the Morris Area, reports the Daily Record of Morris County. The concert will take place on the lawns of the Giralda Farms Corporate Park, in Madison, N.J.
"Under conductor Gerald Steichen, and with baritone Leonard Rowe, the orchestra will perform a program featuring Hermann's arrangement of Stephen Foster Remembered, Copland's Old American Songs, Lowden's arrangement of Armed Forces Salute, Beckel's Liberty for All, Gershwin's Strike up the Band, Wendel's arrangement of An Old Fashioned Summer, Ciolek's arrangement of Suite on Satchmo, Williams' Cowboys Overture, Kern's Old Man River (from Showboat) and
Berlin's God Bless America," notes the newspaper article.
Read more by clicking here. Professor Beckel has been principal trombonist with the Indianapolis Symphony Orchestra since 1969. Read more about him by clicking here.
Back