"Management Integrity is the Foundation of Financial Success," Declares James B. Stewart '73 in Wall Street Journal
May 31, 2006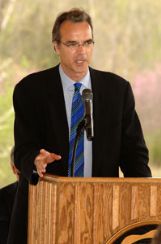 May 31, 2006, Greencastle, Ind. - "The Enron story is a sobering reminder that management integrity is the foundation of financial success," writes James B. Stewart in today's Wall Street Journal. A Pulitzer Prize-winning journalist and author and 1973 graduate of DePauw University, Stewart continues, "Since the Enron fraud emerged, I have moved swiftly to sell stocks in companies where top management is implicated in wrongdoing, and especially where they refuse to accept responsibility. I'll continue to recommend that you do the same." (photo shows Stewart at the DePauw Nature Park, where the Janet Prindle Institute for Ethics is being created)
In his "Common Sense" column, Stewart gives former Enron executives Kenneth Lay and Jeffrey Skilling the "annual Arthur Andersen Memorial award for worst white-collar defense of the year... This year's winner will join such previous title holders as Martha Stewart, the Greenberg clan (Maurice, the deposed head of insurance giant AIG, and his sons) and the original winner, the accounting firm of Arthur Andersen. The purpose of the award isn't to pass judgment on guilt or innocence,
which I leave to the jury. Rather, it seeks to recognize a defense strategy so ill-conceived that even an innocent defendant would run the risk of ending up in jail or out of business."
Read the complete text by clicking here (a paid subscription to the Journal is required).
The chair of DePauw's Board of Trustees, James B. Stewart won a Pulitzer Prize for his work as front page editor of the Wall Street Journal. Now editor-at-large of SmartMoney magazine, Stewart's bestselling books include DisneyWar, Den of Thieves, Blind Eye, Blood Sport and Heart of a Soldier: A Story of Love, Heroism, and September 11th. He was recently re-elected vice president of the Author's Guild. Learn more here.
Back