Inside Higher Ed Previews President Bottoms' 'Passage to India'
February 1, 2006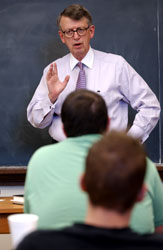 February 1, 2006, Greencastle, Ind. - "Robert G. Bottoms, president of DePauw University, leaves for India this month on a delegation organized by Cummins, an engine company with a large operation in India and headquarters, like DePauw, in Indiana," reports today's edition of Inside Higher Ed. "Bottoms says that university and company officials hope that DePauw can reach out to company employees to recruit their children to study in the United States, and possibly to offer some educational programs at Cummins plants in India."
The story by Scott Jaschik examines how DePauw and other top American colleges are looking to India for students and educational outreach opportunities. "For a variety of economic, political and educational reasons, leaders of American colleges are finding it increasingly worth their time to visit India," he writes. "India has long been a place of study for scholars of the region's history, religions and cultures. And India has long been a major supplier of foreign students for American colleges, but the numbers have shot up dramatically in the last decade, such that India now sends more students to the United States than any other country and students from India now make up 14 percent of all foreign students in the United States (double the share of 10 years ago). But it is only in the past few years that many American colleges have started to expand their role in the country."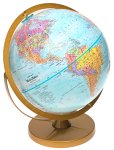 The article notes, "Currently, DePauw has about four Indian students most years in degree programs and a few more exchange students. Bottoms would like to see that number grow to 50 degree students a year, which over time could be a new base of students. On a campus of 2,300, having a few hundred students from India could be a real change, he says. While stressing that this trip is 'exploratory,' Bottoms says that he hopes to see the Indian enrollments 'help to create a different kind of community.'"
Read the complete text, headlined "Passage to India," at Inside Higher Ed's Web site.
Source: Inside Higher Ed
Back