Laws Limiting Funeral Protests May be "Electorally Prudent," Prof. Bruce Stinebrickner Tells AP
June 4, 2006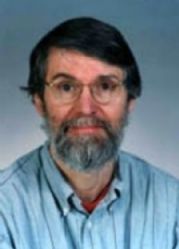 June 4, 2006, Greencastle, Ind. - Across America, lawmakers are considering several bills that would limit protests outside soldiers' funerals, notes today's Morning Sun of Pittsburg, Kansas. It is a controversial issue that is raising its head months before voters go to the polls. "'Introducing such a policy -- or voting for it, if it came to a vote -- would seem the electorally prudent course to pursue,' said Bruce Stinebrickner, chair of the DePauw University political science department in Greencastle, Ind. 'In election years in particular, elected politicians try to do the electorally prudent thing.'"
The Associated Press story by Matt Sedensky points out that "many defenders of the First Amendment say the laws go too far in silencing the words of the protesters simply because most of the world finds them disgusting." The article also quotes Gene Policinski, executive director of the First Amendment Center, as saying: "Americans, under the First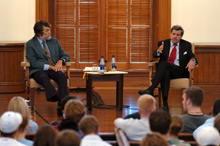 Amendment, will hear messages they don't want to hear. The First Amendment is designed to protect speech Americans may not want to be exposed to. That's the strength of our society -- everyone can express their idea." (photo at right shows Dr. Stinebrickner with Ambassador Paul Bremer in Meharry Hall, September 16, 2004)
Read the complete story at the newspaper's Web site (a free registration is required).
Source: Pittsburg (Kan.) Morning Sun
Back