Steve Hollar '89 and Other Stars of Hoosiers Celebrate 20th Anniversary of Movie's Release
June 4, 2006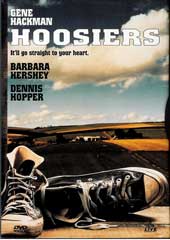 June 4, 2006, Greencastle, Ind. - Steve Hollar, a 1989 graduate of DePauw University who is featured in the 1986 movie Hoosiers, is back in the spotlight this weekend. A nine-day celebration of the 20th anniversary of the beloved film's release began yesterday in Knightstown, Indiana, where much of the movie was filmed. It "attracted people from all over the country Saturday who stepped inside the legendary gym for a look and to meet their favorite 'players,' as well as their real-life counterparts," notes a story in today's Indianapolis Star.
Amy Bartner writes, "Hollar, 39, now a dentist in Warsaw, said none of the young actors anticipated during filming of the movie that sports magazines would rate it as the No. 1 sports movie of all time. Hoosiers was the first of its kind, and many have tried to replicate the underdog story. Few, he said, have succeeded. 'None captures the essence of basketball,' he said. 'We all call tissue Kleenex, even if it's not what we're using. The first in wins.'" (below: image from Hoosiers shows Hollar --
at the far left -- with his "teammates" and Gene Hackman, who starred in the film as Coach Norman Dale)
Steve Hollar, "played Rade, the team rebel," the story notes. The film also featured Barbara Hershey and Dennis Hopper.
Saturday's events included a parade and an autograph session at the Historic Hoosier Gyn. "Fans will have the chance later in the week to go to other events, including a golf outing, a 3-on-3 basketball tournament, 1950s-style sock hop and an all-star basketball game," Bartner reports.
Access the complete article at the Star's Web site. A 1987 story on Steve Hollar can be found here.
Back