"Forward-Leaning Policy" Needed to Keep Nuclear Materials from Terrorists, Says Lee Hamilton '52
June 7, 2006
June 7, 2006, Greencastle, Ind. - "We need a stronger, forward-leaning policy, a policy to secure nuclear materials at sites outside of the U.S.," 9/11 Commission vice chair Lee Hamilton says. In an appearance with committee co-chair Thomas Kean, Hamilton -- a 1952 graduate of DePauw University -- told a House committee that more must be done to prevent nuclear terrorism. "If those sites are secure, then terrorists cannot get nuclear materials. If the terrorists cannot get nuclear materials, they cannot build nuclear bombs," he said.
A Voice of America report adds, "The former commissioners say they were surprised and disappointed by the decision of the Department of Homeland Security to reduce funding for New York City and Washington, D.C. Allocation of government money based on estimates of terrorism risk has been a
controversial issue for Congress and the Bush administration, and Kean says he fears money is being squandered."
Last December, Kean and Hamilton issued a "report card" that gave the government poor marks for its response to the 9/11 Commission's recommendations. "I have to say our perspective now, six months later, is just about the same," Kean states. "There is still a great deal we have to do and still haven't done, to protect the American people."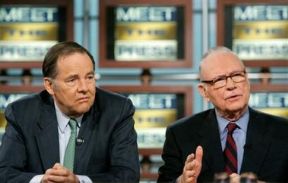 Access the story by clicking here.
Lee Hamilton and Thomas Kean received the Elliot L. Richardson Prize for Excellence in Public Service May 15. The two men have also been elected 2006 Fellows of the American Academy of Arts and Sciences (AAAS) and will be inducted in October.
Hamilton, who served 34 years in the U.S. House of Representatives, will return to his alma mater to participate in DePauw Discourse 2006, October 26-28. Learn more in this previous story.
Back