Andy Rieth '80 Joins Hillenbrand Industries as Vice President
June 7, 2006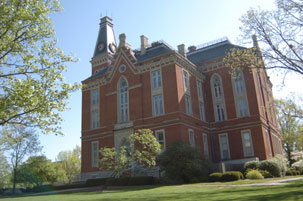 June 7, 2006, Greencastle, Ind. - Blair A. (Andy) Rieth Jr., a 1980 graduate of DePauw and member of the University's Board of Trustees, was today appointed vice president, investor relations & global brand development, of Hillenbrand Industries, Inc. (NYSE: HB). Rieth comes to his new post from Guidant Corporation, which he served since 2000 as investor relations officer. "Rieth brings over 20 years of healthcare management and operational experience having held positions in sales, marketing, business development, and government affairs with Guidant and Eli Lilly & Company," notes an announcement at Yahoo! Finance.
"We are pleased to have an executive of Andy's caliber join the Hillenbrand management team at this exciting time in the history of our company," says Peter H. Soderberg, president and chief executive officer of Hillenbrand. "Andy brings experience and insights from high growth, technology-driven healthcare businesses. I look forward to working with Andy to establish strong relationships with our investors and to enhance the Hill-Rom brand around the world."
Rieth notes, "Hillenbrand Industries and the Hill-Rom and Batesville Casket businesses provide tremendous platforms from which to create value for investors and customers. I am enthusiastic and honored to join a company with such rich traditions on the threshold of exciting new opportunities. I look forward to working with Peter, Greg [Miller, senior vice president and chief financial officer], the management team, and board of directors to build on the outstanding accomplishments already realized."
Investor Relations magazine named Andy Rieth top investor relations officer for large-cap companies in both 2002 and 2004. The announcement adds, "Andy was graduated magna cum laude from DePauw University in 1980 with a degree in economics. Upon graduation, the Phi Beta Kappa graduate was elected to DePauw's Board of Trustees. He earned a Master of Business Administration
degree from Dartmouth College's Amos Tuck School of Business Administration in 1982."
Read more by clicking here.
Hillenbrand Industries, Inc., headquartered in Batesville, Indiana, is a publicly traded company with two wholly owned businesses that are leaders in the health care and funeral services industries. Visit the company online here.
Back