Class of 1956 Presents Gift of Nearly $3.9 Million at Alumni Reunion Celebration
June 10, 2006
Visit Alumni Reunion Weekend Photo Gallery
June 10, 2006, Greencastle, Ind. -

[Download Video: "Number One" - 3722kb] DePauw University's Class of 1956 entered the Lilly Center's Neal Fieldhouse waving top hats and chanting "We're number one," and they are indeed. With more than 300 members of the class back for their golden anniversary celebration, the graduates of fifty years ago unfurled a banner that declared their class gift to their alma mater: $3,876,601.

[Download Video: "Class of '56 Unveils Gift Total" - 1419kb] An all-time University record 62% of the class contributed to the fund-raising effort.

[Download Video: "Jerry D. Pontius '56" - 2009kb] "DePauw is much more than brick and mortar; it's much more than outstanding professors," said Jerry D. Pontius, who spoke on behalf of the Class of 1956. A retired vice president of Sherwin-Williams and co-chair of his class' 50th reunion, Pontius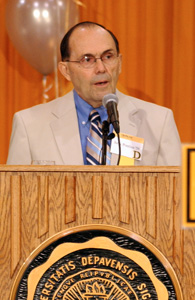 discussed the accomplishments of his classmates and the bonds they share through their experiences a half-century ago, which continue to shape their lives. DePauw, he continued, is "more than strong administrators. It's more than the athletic program, and it's more than the campus activities and the living units. All are very important in their own right. But, in fact, it is all of these things, put together with a unique student, which creates the intangible DePauw experience."

[Download Audio: "Complete Speech of Jerry Pontius '56" - 6304kb]
The golden reunion came 50 years to the day that the Class of 1956 received degrees at Blackstock Stadium following an address by Ralph J. Bunche, undersecretary of the United Nations and 1950 Nobel Peace Prize winner.
Jerry Pontius' co-chairs are Elizabeth Pfeffer Allen, Arthur L. Bryant, Cynthia Brooks Holmberg, and E. Henry Lamkin Jr.
Speaking on behalf of the Class of 1981, Janet Risi Field noted that almost 30 years ago she and her classmates made a choice to attend DePauw.� While much has changed since they arrived on campus -- a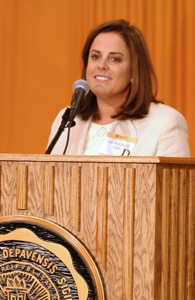 first-class stamp was 13 cents and Saturday Night Fever was America's hottest movie, she recalled -- the value of that choice, and the learning, life successes and friendships it produced, has grown exponentially.
The president and CEO of Independent Purchasing Cooperative, Field described how she reached a major business agreement with a company led by a DePauw graduate (and noted that the University is top-ranked for producing CEOs) and how James E. Ballard '06 interned with her firm and will become an employee later this month.

[Download Video: "Janet Risi Field '81" - 1538kb] "These DePauw relationships are special -- more special than I ever realized," she told the audience. "So, I say today is a celebration of our choice back in 1977 -- to be part of a great institution, (something that) fostered great opportunity, and gave us a great sense and the tools to be part of those impressive leadership statistics."

[Download Audio: "Complete Speech of Janet Risi Field '81" - 4326kb]
Janet Risi Field is co-chairing her 25th reunion with Kim Klinger Butler and Luis R. Davila.
In his remarks, DePauw President Robert G. Bottoms talked of the many physical changes to the DePauw campus over the past few years which a number of alumni are seeing this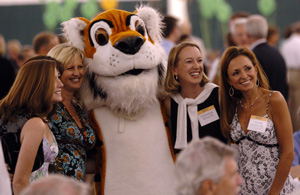 weekend for the first time. While the University may appear different to the eye -- such as the renovated and expanded Percy Lavon Julian Science and Mathematics Center, the Richard E. Peeler Art Center, the DePauw Nature Park and the Green Center for the Performing Arts, to name a few recent additions to campus -- DePauw's 169-year-old foundations remain.

[Download Video: "Building Upon Traditions" - 1521kb] "Oh, a lot has changed," Dr. Bottoms said. "But the core values of this institution, going all the way back to our founding, have been values to produce students who make a positive difference in this world. And it is as true on this campus today as when you were students," the president asserted.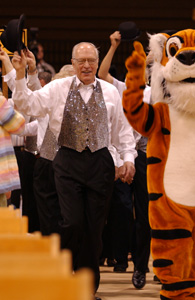 Bottoms touched on the key elements of his strategic plan for the University, "Securing Our Legacy," including his desire to increase the number of international students who come to DePauw, and how the creation of the Janet Prindle Institute for Ethics will enhance teaching, learning and living on the DePauw campus.

[Download Audio: "Ethics Institute" - 277kb] "It's our effort to do in today's society what was done perhaps in a different way for you when you were students: help our faculty and our students across the whole curriculum -- not just in the philosophy department -- to help define while in college at DePauw what it means to live a virtuous life."
More than two thousand alumni and their spouses are on campus today. Alumni Reunion Weekend 2006 continues through tomorrow.
For more information about and a complete schedule of events, including reunion dinners, click here.
Back