Commencement DVD is Ready to Ship
June 12, 2006
Order Your DVD Here; Visit Commencement Photo Gallery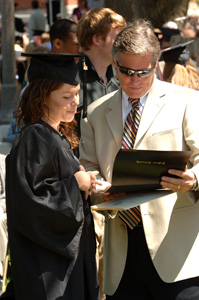 June 12, 2006, Greencastle, Ind. - Those who ordered the DVD of DePauw University's 167th Annual Commencement should be seeing it in their mailboxes over the next few days. The discs -- created and mastered at DePauw and manufactured by Sony -- have arrived on campus and will begin shipping immediately. Featuring more than two hours of content, the DVD includes the entire ceremony and video of each graduate receiving their diploma, a photo gallery, and bonus clips that recall some of the highlights from the graduate's time on campus.
The DVDs remain available for $25 for the first copy, and $10 for each additional disc being sent to the same address. You can access an online order page by clicking here.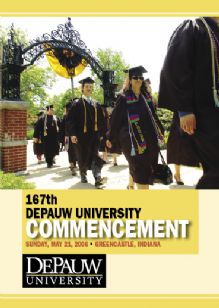 At the commencement, held May 21, DePauw issued diplomas to 607 graduates. The event featured a speech by U.S. Senator Evan Bayh.
Read related stories including a summary of Senator Bayh's speech, an overview of the ceremony, the awarding of honorary degrees, and media coverage of the event.
This marks the tenth DVD that DePauw has produced -- the 2001-04 commencements and the last five Monon Bell Classics also received the digital treatment. They, too, can be purchased by clicking here (note that stock of the 2002 Monon Bell game is extremely low. As these are limited edition discs, when the supply is exhausted they will become unavailable.)
Back