Sophomore's Role in Movie Hoosiers is Subject of Newspaper Feature
March 29, 1987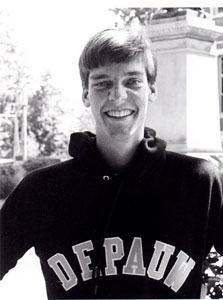 March 29, 1987, Greencastle, Ind. - "His Sigma Nu fraternity brothers teasingly call him 'Hollywood,' and few among his 2,400 classmates fail to recognize him with a cheery nod or 'Hi, Steve!' as he goes about student life on the DePauw campus," notes today's Fort Wayne Journal-Gazette, which includes a story on Steve Hollar. The DePauw sophomore is featured in the acclaimed film, Hoosiers, which stars Gene Hackman and Barbara Hershey. (Hollar is at the far left in photo below)
"Hollar was one of approximately 700 young men who auditioned in Indianapolis, Chicago and Los Angeles for the eight roles as Hickory Huskers team members," writes Dell Ford. A member of the 1984 state championship basketball team at Indiana's Warsaw High School, Hollar "knew a lot about basketball and nothing about acting... Hollar attributes his movie debut to good luck and the fact that he had a car at DePauw while Tigers basketball teammate Phil Wendel did not."
Hollar explains, "I'd read about the auditions in
the Warsaw paper and thought, 'Movie -- big deal, who cares?' When I came to DePauw (for the start of his freshman year), Phil Wendel, a senior, asked if I'd drive him to Indianapolis for the tryouts. That's where it all started. Phil got cut, and I made it."
Learn more in this previous story, which includes a video clip.
Earlier this month, Chicago ABC affiliate WLS-TV profiled Steve Hollar. Read more here, or see the clip below.
Back