New Dormitory, Humbert Hall, is Dedicated
October 28, 1989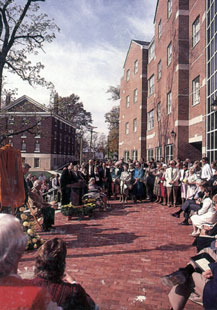 October 28, 1989, Greencastle, Ind. - "Russell Humbert was proud to represent DePauw University whenever and wherever he was asked to do so," said Margaret Humbert Hixson today as Russell J. Humbert Hall was dedicated on the DePauw University campus. The new dormitory, with 60 double-occupancy rooms, is located in the South Quad between Longden and Hogate Halls.
Dr. Humbert served as DePauw's president from 1951 until his death in June 1962. He is remembered for saying, "Make no little plans." Under Humbert's leadership, the endowment increased from $7 million to $11 million, faculty salaries doubled, and new buildings were added -- including Roy O. West Library, the Art Center, Faculty Office Building, and Bishop Roberts Hall for men.
"I say to those of you who so excellently conceived, planned and executed the building of this beautiful residence hall on this perfect spot -- and then chose to dedicate it in honor of Russell Humbert -- I say 'thank you,'" his widow continued. "There could be no more fitting a tribute to him for he loved young people and devoted so much of his life to them. He truly loved this campus -- he felt it a great privilege to be a part of such a rich heritage, he enjoyed the
beauty of the old buildings and the new -- how pleased he would be with the many fine additions since his time."
Humbert Hall creates a new quadrangle with Longden and Hogate Halls while preserving the landscape of the Dells. The four-story structure opened in August and is home to 135 students.
Learn more about Humbert Hall by clicking here.
Back