Newspaper Notes Publication of Prof. Jerome Hixson's Past Perfect
December 4, 1982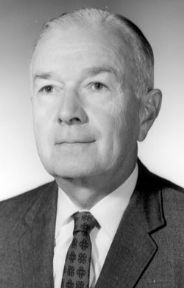 December 4, 1982, Greencastle, Ind. - "Jerome Hixson's Past Perfect is more than the autobiographical 'glimpses' he promises in his foreword," begins an article in this evening's Indianapolis News. "Almost all the 'glimpses of some scenes and people' concern DePauw University where Professor Hixon, known to his close friends as Jerry, was a much respected and well-loved professor and counselor for 43 years," writes Eugene S. Pulliam, the newspaper's publisher and 1935 graduate of DePauw.
Hixson "shared his wit and wisdom with students, faculty and visitors from all over the world," the text continues. "And he shares with his readers the changes of collegiate education as it
evolved for more than four decades. Dancing, once banned, was permitted; faculty members, once hired by the president, earned a say in academic improvement; salaries, which had been cut by 45% during the depression, became respectable, if not munificent; and athletics, once the province of alumni, became a university responsibility."
The newspaper story also reports that Past Perfect: Recollections of Jerome Hixson was edited by Patrick Aikman '57.
Professor Jerome C. Hixson retired from the English department in 1967 after 43 years of teaching a variety of subjects. Read more by clicking here.
Back