DePauw's Fifteenth President, Russell J. Humbert, Dies at Age 57
June 2, 1962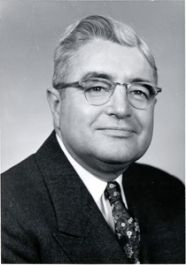 June 2, 1962, Greencastle, Ind. - Russell J. Humbert, the fifteenth president of DePauw University, passed away this afternoon, one day after suffering a stroke while in Michigan with his family over Memorial Day weekend. He was 57 years old, and had served as DePauw's president since 1951.
Dr. Humbert was born May 26, 1905 in Barberton, Ohio. A graduate of the College of Wooster and the Boston University Theological School, he became a popular administrator and an effective fund raiser at DePauw, initiating the Greater DePauw Program -- a 10-to-15 year plan to raise $10 million for new buildings and endowment. Additions to the

campus included Roy O. West Library (seen in photo at right), Bishop Roberts Hall, and the DePauw School of Nursing was created.
Humbert presided over growing student enrollments, increases in graduation requirements, as well as rising tuition and faculty compensation. He was also instrumental in the creation of the DePauw Archives to preserve the history of DePauw along with its Methodist heritage.
Read more about President Humbert in the book, DePauw: A Pictorial History, by clicking here.
Back