NBC's John Chancellor Quotes President Bottoms in New Book
June 13, 1990

June 13, 1990, Greencastle, Ind. - DePauw University President Robert G. Bottoms is quoted twice in the new book by NBC television newsman John Chancellor, Peril and Promise: A Commentary on America. Dr. Bottoms stresses the pressing need for better science education in the United States.
In conjunction with President Bottoms' quotes, Chancellorwrites, "There has been a significant reduction in the interest of students in every scientific field: in all the biological sciences, all the physical sciences, and all areas of mathematics. Only in some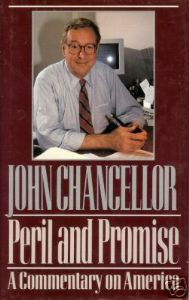 liberal arts colleges has this devastating decline been resisted."
Library Journal calls the book "refreshingly honest and thoughtful," adding, "NBC News journalist Chancellor wrote this book in 'anger and frustration' over the United States' continuing inability to manage its affairs. The country has gone to hell since Kennedy's assassination, he says, with the American people let down by one ineffective President and Congress after the other. He sees the United States losing its competitive edge in technology to Japan and West Germany, bankrupting itself with deficits, letting its infrastructure rot, and abusing its human resources by miseducating its youth and not retraining its work force. Instead of a kinder, gentler America, he wants a 'tougher, smarter America,' with more imaginative leadership, courageous economic management (including new taxes), and a national effort, similar to that for the moon program, to put the country right again."
Back