Depressed Over the State of the Nation?, 9/11 Commission Co-Chair Lee Hamilton '52 Asks
June 14, 2006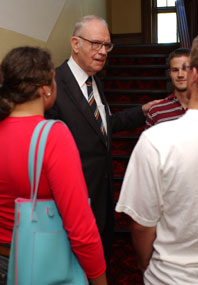 June 14, 2006, Greencastle, Ind. - "There's still plenty of cause for the average American to worry about the state of our system, and there is much that still needs repairing," writes Lee Hamilton in an op-ed. The former United States Congressman continues, "But we are a hardy country with a strong and resilient system of government, and though our problems may be deep-seated, never doubt for a moment that they are correctable or that, given time and effort, we can muster the will and ingenuity to put them right."
The column is headlined "Depressed about our country? Don't be," and appears in Indiana's Carroll County Comet. Hamilton, who co-chaired the 9/11 Commission and is serving a similar role in the new Iraq Study Group, begins: "The disheartening stream of news about our nation, from the war in Iraq to the behavior of our elected officials in Washington, has created a poisonous atmosphere around the country. Recent polls by the Pew Research Center for the People and the Press have found not just a profound crisis of confidence in Congress and the White House, but also sour opinions about business corporations and even a slight decline in support for the U.S. military."
Now president of the Woodrow Wilson International Center for Scholars after serving 34 years in Congress , Hamilton continues, "Americans, as we do from time to time, are fretting about the state of the nation and wondering, 'Is there any hope for this country?' So I'd like to take a
moment to explain why the answer is an emphatic, 'Of course!' All you have to do is look around to see plenty of reasons for taking heart."
Read the complete text at the newspaper's Web site.
Hamilton was awarded the Elliot L. Richardson Prize for Excellence in Public Service May 15, along with 9/11 Commission co-chair Thomas Kean. The two men have also been elected 2006 Fellows of the American Academy of Arts and Sciences (AAAS) and will be inducted in October. In 2005, Hamilton and Kean were honored with the Four Freedoms Medal by the Franklin and Eleanor Roosevelt Institute.
Back