Iraq War a "Corrupt, Futile Enterprise," Writes Prof. Ken Bode
June 16, 2006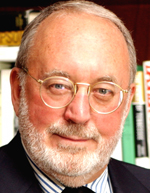 June 16, 2006, Greencastle, Ind. - "President Bush clearly got a kick out of his trip to Baghdad," writes Ken Bode, Eugene S. Pulliam Distinguished Visiting Professor of Journalism at DePauw University. "He sneaked away in the dead of night, always fun for a chief executive tethered tightly to a schedule, rode in the cockpit of Air Force One, flew in a convoy of helicopters over dangerous Iraqi territory, and was never shot at once. In what other country could the president of the United States land his airplane without the knowledge of that country's leader?," asks the professor.
In an op-ed published in today's Indianapolis Star, Dr. Bode asserts, "It is said that the presidential trip was powerful political theater, unfolded with the precision of a campaign event. That's exactly what it was. It enabled Bush to appear presidential, be cheered by the troops and return home to the Rose Garden where he promised once again that America will stay the course, that our country will not lose its nerve. Meanwhile, now relieved of the possibility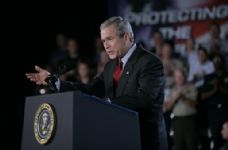 of indictment, Karl Rove is unleashed, promising in a speech to New Hampshire Republicans that we will not cut and run. It is a sign of things to come."
Bode, former senior political analyst for CNN, maintains, "Bush is running a war that is now costing $200 million a day with no end in sight and which two-thirds of Americans now believe he cannot end successfully. What the Republicans fear is that the midterm elections will become a genuine referendum on that war. Thus, they will characterize critics and demands to set timetables for withdrawal as cowardly, unpatriotic, as undermining our troops. The only way to honor those who have paid the ultimate sacrifice, Bush has said, is to stay the course, to finish the job."
In conclusion, Bode repeats the recent comments of the Guardian's Scott Ritter in an analysis for President Bush and British Prime Minister Tony Blair. Ritter wrote, "These two politicians are simply continuing the self-delusional process of blundering down a path in Iraq that can only lead to more death and destruction." Bode states,

"That is the truth, and it is no way to honor those who have already died in this corrupt, futile enterprise."
Read the complete column at College News.org.
On June 2, Ken Bode's column examined the killing of unarmed Iraqi civilians in Haditha. Learn more in this previous story.
Source: Indianapolis Star
Back