Columnist Says New Iraq Study Group -- Featuring Lee Hamilton '52 and Vernon Jordan '57 -- Offers "A Wealth of Bipartisan Experience"
June 17, 2006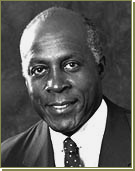 June 17, 2006, Greencastle, Ind. - "[President] Bush says he doesn't pay attention to polls, but they prompted him to form an Iraq study group," notes Scripps Howard News Service's Ann McFeatters in a column that appears today in newspapers across America. "The members of that group are telling: former Secretary of State James Baker; former Rep. Lee Hamilton, D-Ind., who co-chaired the now-defunct 9/11 Commission [seen below right]; former CIA Director Robert Gates; former Bill Clinton adviser Vernon Jordan [pictured at top]; former Attorney General Ed Meese; former Supreme Court Justice Sandra Day O'Connor; former White House Chief of Staff Leon Panetta; former Defense Secretary William Perry; and former U.S. Sens. Chuck Robb, D-Va., and Alan Simpson, R-Wyo." Lee Hamilton is a 1952 graduate of DePauw University; Vernon Jordan is a member of DePauw's Class of 1957.
"Yes, they are all 'formers.' But what a wealth of bipartisan experience!," McFeatters declares. "We can be sure their meetings are lively and their
advice candid. Bush may or may not take it, but you can bet they were in favor of the president's travel to Iraq to see for himself a little of the country he's committed this country to fight in for the foreseeable future."
Read the complete column at the Web site of the Cincinnati Post. Learn more about the Iraq Study Group in this previous story.
Lee Hamilton assessed the state of the nation in an op-ed this week. Read more here.
Back