NBC's Jane Pauley Becomes DePauw's Youngest-Ever Honorary Degree Recipient
May 21, 1978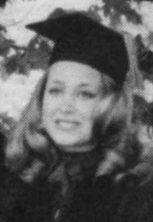 May 21, 1978, Greencastle, Ind. - As of today it's "Dr." Jane Pauley of the Today show. Ms. Pauley became the youngest person in history to receive an honorary doctorate from DePauw University at the 139th Commencement this afternoon. Pauley, a native of nearby Indianapolis, received an honorary Doctor of Journalism degree from DePauw's president, Richard F. Rosser.
Five other distinguished individuals were also presented with honorary degrees today. They included new FBI Director William Webster, Indianapolis Symphony Orchestra director John Nelson, and United States Congressman John Brademas, who delivered the commencement address.
One of Jane Pauley's first television assignments as a rookie newswoman at Indianapolis' WISH-TV came at DePauw. She covered the opening of the University's new $7.2 million Science Center. Her career later took her to Chicago's WMAQ-TV and then on to NBC and a Today spot in late 1976.
"Jane Pauley, yours is one of the
best-known names in America today, a distinction rare indeed for one of your years," began the citation that was read at today's ceremony. "You are known because you have brought a special distinction to television journalism: you are a woman in high places, and a woman of wit, charm, and great abilities. You light up our lives five mornings each week and cause us sometimes to wish that Saturday might never come."
About 500 DePauw seniors received diplomas at today's event, which was held on the grounds of historic East College, where the Indiana Journalism Hall of Fame is located.
Back